Oscar-Nominee Jennifer Lawrence Is Hollywood's Next Big Star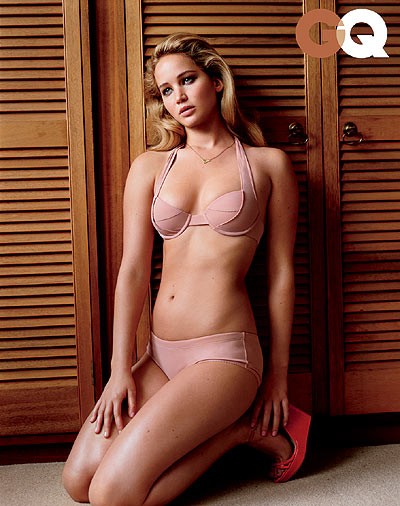 Jennifer Lawrence heats up the new issue Of GQ magazine by stripping down to her underwear for a sexy photo shoot. The 20-year-old up-and-comer stars in this summer's X-Men: First Class, as the shape-shifting Mystique.
Jennifer takes over the role made famous by Rebecca Romijn for the franchise's prequel, which takes place before Professor Charles Xavier and Magneto become enemies and their team of mutants team up to save the world from nuclear annihilation.

The film's director, Matthew Vaughn, tells GQ, "There are a lot of young American actors right now who haven't got any technique, and to be blunt, a lot of these kids assume that just by having a good set of teeth and t*ts, smiling for the camera's gonna be enough. I needed someone who could act."

Vaughn picked Lawrence based on her audition tape alone and not seeing any of her past work, including last year's Winter's Bone, for which the actress was nominated for an Oscar.

Jennifer also stars with Jodie Foster and Mel Gibson in this summer's The Beaver; but perhaps more importantly is the fact that she's been cast in the lead role in the upcoming The Hunger Games.
Based on the best selling young adult book trilogy by author Suzanne Collins, the film takes place in the future where poor kids between the ages of 12 and 18 are chosen to fight to the death in the televised "Hunger Games." Jennifer plays Katniss Everdeen, a 16-year-old girl who volunteers for the games in place of her younger sister, who was chosen to participate.

Check out the rest of Jennifer's GQ photo shoot here!
Click for more great Jennifer Lawrence pictures, right here on Starpulse!