Orson Welles' 'Citizen Kane' Oscar Sells For $861,000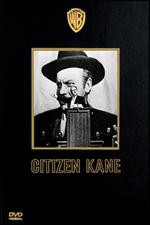 The Academy Award presented to Orson Welles for his work on movie classic Citizen Kane has fetched more than $850,000 at auction.

The movie, which Welles directed and starred in, landed nine Oscar nominations following its release in 1941, but only claimed gold for Best Original Screenplay.

The actor/filmmaker lost the statuette, but it resurfaced nine years after his 1985 death when it was put up for auction by a cinematographer who claimed to have been given it by Welles as a form of payment.

Welles' daughter, Beatrice, reclaimed the Oscar and after a legal battle with bosses of the Academy of Motion Picture Arts and Sciences, she was granted permission to sell it on.

It was part of a Hollywood memorabilia sale at Los Angeles' Nate D. Sanders auction house on Tuesday and a mystery bidder paid out $861,542 for the trophy, after fighting off competition from famed magician David Copperfield.

Auction house owner Nate D. Sanders says, "This is a testament to the popularity of Orson Welles and his magnum opus Citizen Kane.  I'm proud to have represented this fantastic award to the cinema collecting community."