'Orange Is The New Black' Cancelled? Not So Fast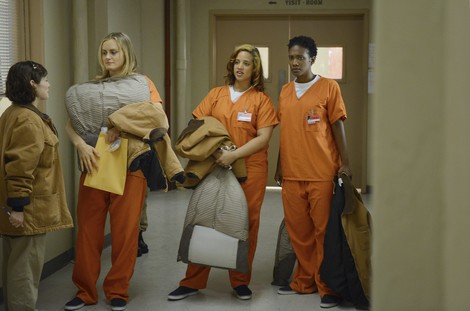 Orange is the New Black fans were freaking out last night after a website claimed the Emmy-nominated Netflix series was cancelled. However, not everything was as it seemed.
Satirical website Empire News generated a fake comment from Netflix founder Reed Hastings: "We regret to inform Netflix members that Orange is the New Black has been permanently cancelled. Also, starting September 1st, 2014, past episodes will no longer be available for streaming on Netflix."
The "joke" arrived later in the story when they came up with this gem of a "quote" from Hastings: "A woman's place is in the home, in the kitchen, taking care of children. A woman in jail? How does anyone even watch this show in the first place? It's like we took everything bad about OZ, and make this show with the leftovers."
Despite several grammatical errors in the story, fans of the show searching the net were shocked to find it was on the way and there would be no third season. Intermixed with genuine reactions to the fake news were those who were in the joke and tried to spread it further.
INMATES, listen up! @OITNB is not cancelled. Here's @thedanieb and @UzoAduba on set for season 3: pic.twitter.com/8L32IYmMQU

— Netflix US (@netflix) July 13, 2014
The "news" became so prominent the official twitter for both the show and Netflix refuted the story and posted photos from season 3's production. We guess you can't believe everything you read!