'Oprah Winfrey Presents: Mitch Albom's For One More Day,' Premieres Dec. 9 On ABC

Emmy Award®-winning actor
Michael Imperioli
(
The Sopranos
) and Academy Award®-winning actress
Ellen Burstyn
(
Requiem for a Dream
,
Alice Doesn't Live Here Anymore
) star in the two-hour television event motion picture
Oprah Winfrey Presents: Mitch Albom's For One More Day
, premiering Sunday, December 9 (9:00-11:00 p.m., ET) on the ABC Television Network.
In the film, based on Albom's bestselling book
For One More Day
, Imperioli plays Chick Benetto, a broken-down former baseball player who has collapsed into alcoholism and despair. He returns one night to his small hometown with plans to take his life. At the final moment, he is magically granted one more day with his departed mother, Posey Benetto, played by Burstyn, who illuminates the secrets of both their lives and shows him a way to redemption.
Samantha Mathis
(
The Punisher
,
American Psycho
) plays the younger Posey and
Scott Cohen
(
Law & Order: Trial by Jury
, upcoming show "The Return of Jezebel James") plays Chick's father, Len Benetto. Michael Imperioli's son, Vadim Imperioli, plays the role of the younger Chick in his acting film debut.
Also starring are
Alice Drummond
as Rose, Emily Wickersham as Maria, Cara Seymour as Catherine Benetto, Lexie Drago as young Maria, Joyce Hogi as Miss Thelma and Frank Pellegrino as older Len Benetto.
Trailer: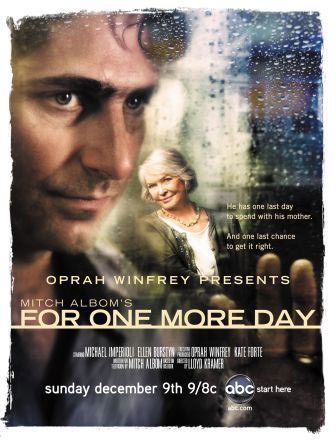 Harpo Films produced the film under its "Oprah Winfrey Presents" banner for ABC. Oprah Winfrey and Kate Forte are the executive producers. Filmed on location in parts of Connecticut and New York, Lloyd Kramer ("Mitch Albom's The Five People You Meet in Heaven") directed the film, with the teleplay written by Mitch Albom. The previous collaboration by Harpo Films and Mitch Albom, "Tuesdays with Morrie," yielded four Emmy® wins, including for Outstanding Made-for-Television Movie and Outstanding Lead Actor in a Mini-Series or Movie.
Harpo Productions, Inc. produces daytime's number-one-rated, award-winning "The Oprah Winfrey Show," creates and develops original TV programming, and operates Oprah.com, a premier women's lifestyle website. Harpo Print, LLC and Hearst Magazines publish the monthly O, The Oprah Magazine and quarterly O at Home publications. Harpo Films, Inc. produces feature films as well as top-rated long form television programs, including those under the "Oprah Winfrey Presents" banner. Harpo Radio, Inc. produces the content for the "Oprah & Friends" channel (156) on XM Satellite Radio.