Oprah Winfrey Lays Off 30 Employees At Her Struggling Cable Channel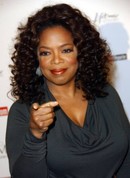 Oprah Winfrey has drastically slashed staff numbers at her fledgling cable network following a series of poor ratings.

The TV titan quit her hugely successful chat show in 2011 after 25 years on air to create her OWN channel.

However, the programming schedule has failed to pull in big viewing figures and Rosie O'Donnell's talk show became the first victim when it was scrapped after one series earlier this month.

Winfrey and co-owners Discovery Communications have now laid off 30 employees as part of restructuring measures.

The star says, "The economics of a start-up cable network just don't work with the cost structure that was in place. As CEO, I have a responsibility to chart the course for long-term success for the network."