Oprah Should Not Wear Baggy Clothes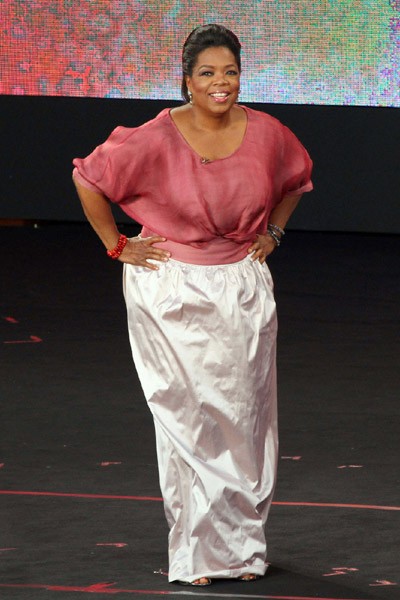 Oprah Winfrey has always been honest about her weight problems, and we praise her for being so open about her struggles.  But she should really try to wear some clothes that fit her properly. What do you think?
The talk show host took to the stage to film her "Ultimate Australian Adventure" in Sydney yesterday. Guests included Nicole Kidman and Keith Urban.
Oprah broke down in tears as she opened up about her relationship with best pal Gayle King in a recent TV interview, branding her the "mother I never had."

The TV queen became visibly emotional while discussing King in a taped chat with broadcaster Barbara Walters, admitting she has relied on her pal for daily support for more than 30 years. Winfrey says, "She's the mother I never had. The sister everybody would want. The friend everybody deserves. I don't know a better person..."
Many have speculated Oprah is a lesbian, and perhaps Gayle is her lover. Winfrey dismissed ongoing speculation, ranting: "I have said we are not gay enough times. I am not lesbian. Not even kind of lesbian. That irritates me because it means somebody must think I'm lying. That's No. 1. No. 2, why would you want to hide it? That is not the way I run my life."