Oprah Set To Keep Up With The Kardashians In Candid, Revealing Interview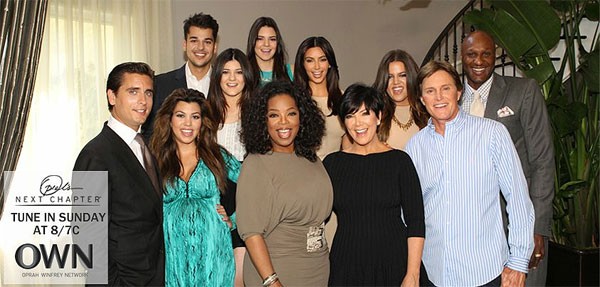 Oprah Winfrey will be talking to "ALLLLLLLL the Kardashians" - Kim, Kourtney, Khloe, their brother Rob, half-sisters Kylie and Kendall Jenner, mom Kris and step-dad Bruce Jenner, along with Khloe's husband Lamar Odom, and Kourtney's fiance Scott Disick in a candid, in-depth interview "Next Chapter" show, which airs this Sunday night.

The media mogul grills the family on a number of topics, from Kim's infamous sex tape and 72-hour marriage to Kris's management of the family's business affairs.

Oprah, who had never met the family or even watched the show before, posted some thoughts on the interview to her Facebook page on Thursday.

"I genuinely wanted to know why they have become a cultural phenomenon? Why do so many people love to watch their every move and why do so many others love to hate them. Are they completely ego centered? Are they really "famous for being famous" or is there something more?" She writes.

Without giving anything away Oprah tells that got all the answers she was looking for and more; and that Scott, Lamar and Khloe, and Kim were the ones who surprised her the most.

And as far as that brief marriage Kim had to NBA player Kris Humphries goes - Oprah says, "Why did she leave after 72 days? Her answer leveled me."

"It was such a surreal experience sitting down with Oprah," Kim says in a post on her official site. "it was an unforgettable experience for the entire family!"

Eonline.com, which is home to Keeping Up With the Kardashians and all of the family's other shows, revealed a little more about the interview.

When asked if mom Kris is "pimping her children," Kim replied, "I think that's so ridiculous. First of all, we have to hire a manager. So regardless, someone is going to get that [job].

"No one will fight harder for you than your own mother,. She knows us. She knows all of our moods… We just get each other. We vibe. It works," she adds.

Oprah's sit-down with the Kardashians will air on Oprah's Next Chapter this Sunday, June 17 at 8pm on the OWN network.