'One Tree Hill': Wedding Blues

As "
One Tree Hill
" sadly winds down its season, there's nothing like a wedding to spice up the atmosphere. While this has not been their best season by far, it's always disappointing to have to endure another long hiatus before the ensuing premiere. As promised, the results from last week's predictions are in! See where I was spot on and where I went completely wrong! Were your predictions correct?
Brooke Davis
Last Week's Prediction: Last week, I believed Peyton would be the heroine and call up Julian to invite him to the wedding, but I was wrong. The hero-to-be ended up being Lucas Scott! While I almost guessed that aspect of the situation correctly, I was completely off with the rest. Julian hopped on a plane to attend the wedding - but took it upon himself to invite, Missy, movie-Brooke as his date. My question remains - what was the exact purpose of that? He admitted to Lucas that this was the only "Brooke" that wanted him, but did he not think he would run into the real one or expect her to care less? Needless to say, the two did not end up together at the end of the episode, but Julian once again proved his commitment and undying love for the young Davis by giving Victoria a piece of his mind.
Peyton (Sawyer) Scott/Lucas Scott
Last Week's Prediction: I was nearly 100% correct with this prediction. Lucas and Peyton's outdoor wedding went flawless with little to no drama or health scares. I predicted Peyton would experience some abdominal pain and choose to ignore it, and while the writers never mentioned it, I have a strong feeling next week's episode will reveal Peyton's omission. Correct in my guess, the episode ended in Peyton passing out in a pool of blood after a day full of wedding festivities. Despite what the writers want fans to believe, Peyton will pull through and both her and the baby will live a happy, healthy and exciting life with the adoring husband and father, Lucas Scott. Side note: Kudos to Lucas for finally completing his Comet project!
Haley James Scott/Nathan Scott
Last Week's Prediction: Haley and Nathan found each other on different wavelengths this past week. Haley was ordained a minister from OneMinuteMinister.com in order to lead Lucas' wedding. Honestly, could they not afford a real ceremony? How could Lucas go from a beautiful wedding celebration with his ex-fiancé in a lavish church to an outdoor wedding with no real minister, church setting, etc. And did anyone notice that not one parent of any of the characters was present? As much as this was a shot gun wedding, would Lucas not inform his Mom, who would most likely do anything to be at her only son's wedding?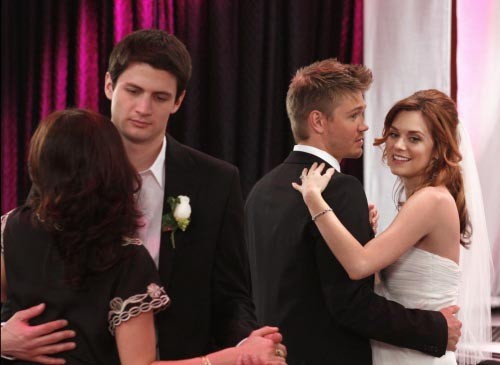 Image © 2009 The CW Network, LLC. All Rights Reserved.
In the interim, Haley and Nathan realize their intense love for each other courtesy of being separated often. After finding out Nino was offered an NBA position, Haley sought to keep his mind off the disappointment by seducing him in the woman's bathroom. Now that's what we like to see!
Skills/Lauren
Last Week's Prediction: My predictions from last week would have added tremendous drama to the wedding, but the writers chose to go another route. Instead of a cameo by Grandma Deb, Skills was Jamie's babysitter the entire wedding. And there wasn't even any slutty wedding sex with Skills and Lauren. Boring!
Mouth/Millicent
Last Week's Predictions: Again, last weeks predictions would have added a bit more excitement to the episode, but Millicent found a way to attend the wedding void of any problems. Their storyline seems to have just about fizzled out, so don't expect to see any highly intense scenes with these two before the season ends.
Chase/Mia
Last Week's Prediction: This couple is starting to gross me out. Their trip down Lover's Lane is becoming quite cheesy and overdone. Despite talking about wedding sex, the two choose not to engage in it themselves, though Mia does tease him about it. On a side note, the writers' sly way of incorporating the Laguna Beach comment between Julian and Chase was hilarious! It went smoothly with the storyline and added a bit of ironic humor.
Cast:
Chad Michael Murray
/
Sophia Bush
/
James Lafferty
/
Hilarie Burton
/
Bethany Joy Lenz
/
more
Story by
Kathryn Sparks
Starpulse contributing writer