'One Tree Hill' Season Finale

The season-six finale of "
One Tree Hill
" aired last Monday night and featured an end to an era.
Chad Michael Murray
("Lucas") and
Hilarie Burton
("Peyton") recently confirmed they would not be returning next season. Could this be it for the show? Will the producers decide to cancel next season? Despite the disappointment, the writers at least gave each of the cast of characters a positive spin in the end.
Brooke's lack of relationship with her mother continued, as Victoria failed to give Brooke Julian's previous message. As the episode neared the end, her Victoria made a surprising 180 degree turnaround and became the mother Brooke always desired. With tears in her eyes, Brooke listened as her mother apologized for not being the role model she needed growing up. She confessed her numerous faults as a parent and admitted of how proud she was to have a strong, beautiful woman for a daughter. While most OTH fans were waiting in anticipation for this very moment, the more Victoria spoke, the more surreal it seemed. Was it solely Julian's opinion that swayed Victoria do the good side? Had Victoria all along wanted to reveal her true feelings? High on her mother's renewed love, Brooke flew to California (just like that?) and finally told Julian the three words she kept captive in her heart for way too long. At least B. Davis got her fairy tale movie ending.
Fans and characters alike waited in suspense over the health status of Peyton and the baby. Finally, Peyton opened her eyes to welcome
Sawyer Brooke Scott to the world. Her previous health condition nearly avoided, Peyton headed home with her new bundle of joy. Karen, Lucas' mother, made a small cameo in the episode to meet her new grandchild. Lucas and his mother sat on the porch steps of the house and talked about Lily, basketball and life, digging up nostalgic memories of earlier seasons.
In a moment of shock and fear, Nathan realized his days with the Chiefs were over. What seemed like a block in the road to his basketball dreams became a milestone in his career: the Charlotte Bobcats offered him the starting point guard position on the team. The Scott family took a trip out to Charlotte to see Nathan's new home arena - where eventually, thousands of fans screamed Nathan's name during his first NBA introduction with the team. Congratulations Nathan!
Torn over whether to move back to Tree Hill or stay in New York, Millie confronted Brooke with the problem. Before she could get a word in edgewise, Brooke told her to gather her things - Clothes Over Bros in Tree Hill needed her services. Later that night, Millie surprised Mouth with the good news.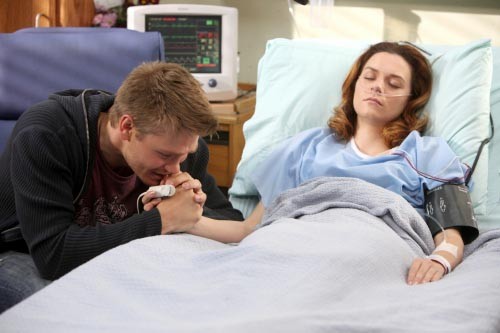 Image © The CW Television Network
Even Dan Scott came to terms with his past when he chose to visit the old Ravens basketball coach, Whitey Durham. The two discussed Dan's struggles with his brother, Keith, whom Dan murdered years back. Despite Dan's change of heart and jail time, Whitey's anger toward the former mayor was strongly evident. Overcome with grief, Dan appeared to want to hurt Whitey but instead embraced each other in a meaningful hug. Whitey informed him it's not nor never too late to seek repentance.
With everyone content and settled into their prospective lives, it seemed as though "One Tree Hill" finally wrapped up their show. Though they have been rumored to continue into a season seven, as one of the biggest fans of the show, I think they should refrain from doing so. While the ending may have been quite cheesy and everyone ended up "happily ever after," continuing the show would just be dragging out storylines that are either farfetched or completely lame. The magic of the show will always be in the past six seasons.
Cast:
Chad Michael Murray
/
Sophia Bush
/
James Lafferty
/
Hilarie Burton
/
Bethany Joy Lenz
/
more
Story by
Kathryn Sparks
Starpulse contributing writer