'One Tree Hill' Mother Of All Dreams

With only several episodes left in the season, "
One Tree Hill
" focused on the same storylines with small twists to spark some drama. It's pretty obvious at this point that fans will witness Peyton's life in danger in three weeks. Until then, fans must turn to despondent Brooke, determined Nathan and concerned Lucas to spice up the show.
Since Vampire Victoria's most recent cameo, fans have been treated to Bitter Brook. Along with Sam and Victoria's budding relationship came Brooke's rancid attitude. Jealous, hurt and livid, Brooke continued to spew her candid, yet insulting comments toward her mother in hopes to once again stop her meddling. Obvious to most, it seemed Victoria's bond with Sam was nothing short of compensating for her lack of motherly love toward her own daughter years prior. To make matters worse, Victoria chose to hide letters from Sam's birth mother to keep Brooke from losing her. Unfortunately, Brooke wanted no assistance from her mother. Back at home, Brooke spoke from the heart and encouraged Sam to give her birth mother a second chance.
Nathan's hard work seemed to pay off as his coach informed him of a golden opportunity to play in the European basketball league. Torn between chasing his dream to make the NBA or accept the offer, Nathan listened to advice from Haley, his coach and Devon. Deciding to go after his ultimate goal, Nathan passed the opportunity and recommended Devon to the scouts. Will fans ever be treated to Nathan earning a spot in the NBA?
Skills and Jamie both decide to man up and attend Jamie's first school dance. Jamie found the courage to ask his crush Madison to be his date, but unfortunately his friend Chuck beat him to the punch. Both Skills and Jamie lounge on the couch in a state of despair, but find the will to attend the dance regardless. Their fashionable entrance was hilarious and downright adorable. Despite their bravery the two end up worshiping the punch table. The night just about ended without any excitement until Jamie dared Skills to ask Allison to dance. Chuck raised Jamie's spirits by informing him Madison was chattering all night about him. Just like his father, little Jamie took it upon himself to win the girl's heart. Precious!
Haley found a new route in her music career, but this time by selling her written music. Unbeknownst to her, the dreamy
Nick Lachey
flew all the way to Tree Hill to ask permission to buy her new song, " All in Your Head." How many times is Nick going to make a cameo in prime time television series to spark his own lack of a music career? Given the success of Kate Voegele, it's not a bad ploy to drive iTunes music downloads, but it's seeming a little desperate these days. Thoughts??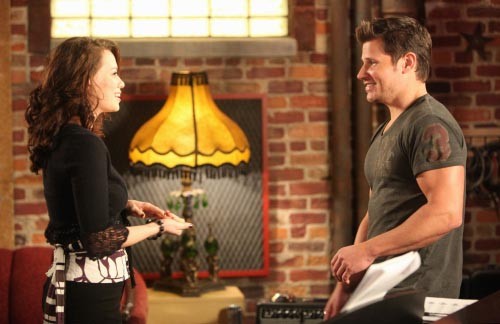 The Mia and Chase storyline has officially fizzled. The entire point Monday night was based off of Mia's lack of awareness of how Chase lose his virginity. As most Tree Hill fans will recall, he lost it in the backseat of a car with Brooke Davis at a high school graduation party. And the point of this storyline was? Could the writers not have produced anything cleverer? To be truthfully honest, why was how Chase's sexual history any business of Mia's? Unless they plan to sleep together, it was not something to be upset over. The moment they decide to become more intimate is the time that talk should happen.
Next week fans can look forward to Skills and Allison's first date, Peyton's wedding proposal and Brooke's potential adoption. Also, don't miss "One Tree Hill's" professional makeup artist give tips on how to create the Brooke Davis look.
Cast:
Chad Michael Murray
/
Sophia Bush
/
James Lafferty
/
Hilarie Burton
/
Bethany Joy Lenz
/
more
Story by
Kathryn Sparks
Starpulse contributing writer