'One Tree Hill': Future Predictions

In light of the exciting, yet surprising turnout of this year's Kentucky Derby, it would suffice to make a few of my own predictions. While many may focus on the past and present, it's time to look from instead the present to the future. This week's airing of "
One Tree Hill
" provided us with the usual lackluster performances from this season's Tree Hill bunch. Based on current storylines and upcoming previews, check out this season's final predictions by yours truly! Let's see how correct (or wrong) these turn out to be! What are your predictions?
Brooke Davis
Current Status:
Brooke's endless fights with her mother, Victoria continue to rage on, while Brooke attempts to adopt Sam. After a heartfelt discussion, Sam chooses to spend time living with her birth mother.
Prediction:
With Julian back in the picture, I'm guessing someone (possibly Peyton?) called him in California and invited him to Lucas and Peyton's wedding. Blindsided and hurt that he doesn't call to tell her he's coming to Tree Hill, she takes it upon herself to hurt him - with Nick Lachey as her date. Julian doesn't stand it and teases Nick the entire night. Julian's bitter and tough-guy exterior turns Brooke on and they end up sleeping together. With Sam out of the house and possibly the picture, Julian once again asks Brooke to be with him in California.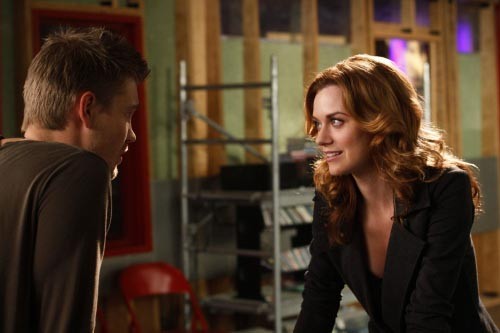 Peyton Sawyer/Lucas Scott
Current Status:
Lucas is determined to fix Peyton's comet without her knowledge while she battles her fear of a possible death. She puts together a "just-in-case" memory box for her unborn child and gets caught by Lucas. Upset at first, Nathan helps Lucas realize the need to cherish everyday he has with his fiancé. The two plan to marry as soon as possible.
Prediction:
Peyton experiences some abdomen pain, but chooses to tell no one for fear of ruining the day. The two have an amazing and romantic outdoor wedding. After all of the festivities wind down, Peyton and Lucas head back home. Unfortunately, Peyton's choice to ignore her abdomen pain leads her to collapse on the floor unconscious. This could possibly lead into her and the baby's questionable health status - a typical storyline for the Tree Hill writers to utilize for a season finale.
Haley James Scott/Nathan Scott
Current Status:
After Nathan's stellar performance with the Chiefs, he continues to nurse his cell phone in hopes of hearing from the NBA scout. Haley, while not back in the classroom, places all of her focus on working on Mia's album and Nick Lachey's music.
Prediction:
Nathan still has yet to hear from the NBA scout, but holds out hope that something will surface soon. Nick Lachey's rendition of Haley's song becomes a smash hit on the charts, surprising everyone but Nathan, her biggest supporter. The two finally have some time alone at the wedding and realize how much they have missed being with each other. They sneak off for some sneaky behind-the-scenes wedding sex. Down the line, could we see little Jamie get a little brother or sister?
Skills/Lauren
Current Status:
After their third date blew up in the face, Skills and Lauren finally get their first kiss.
Prediction:
Skills invites Lauren to the wedding where everything works out perfectly until Grandma Deb shows up, making it slightly awkward for all three. Maybe some extra drama will surface with Lauren's ex present at the wedding - someone the audience is quite familiar with. Who? Not sure, but a strong twist at its best!
Mouth/Millicent
Current Status:
After working everything out, Mouth and Millicent engage in a long distance romance. Despite their strong feelings for each other, Mouth expresses the difficulty of the distance to Nathan who knows all to well about being away from a loved one.
Prediction:
Mouth invites Millicent to Peyton and Lucas' wedding but she ends up turning it down because of work. Mouth falls into a slight state of depression until out of nowhere, Millicent finds a way to attend and surprises her boyfriend. And the two live happily ever after. At least for the rest of the season, that is.
Chase/Mia
Current Status:
Mia's second album turns out to be absolutely incredible (her songs really are amazing), while her boyfriend Chase continues to bartend at Tric. After making up last week over a pointless argument, the two become even closer.
Prediction:
At the wedding, the sexual tension becomes even more intense during a conversation about wild wedding sex. While several characters end up in bed, these two do not and continue to nurture their budding romance into something inspiring. (Gag me!)
Cast:
Chad Michael Murray
/
Sophia Bush
/
James Lafferty
/
Hilarie Burton
/
Bethany Joy Lenz
/
more
Story by
Kathryn Sparks
Starpulse contributing writer