One To Watch: Nicki Aycox

If you sift well enough past your
Lindsay Lohan
s,
Megan Fox
es, etc. you can still find talented, younger (20s-30s) actresses worthy of your time. One of the best examples is
Nicki Aycox
.
Like most newcomers, Aycox began her career with sprinkling guest appearances bouncing from popular television shows including
3rd Rock From The Sun
,
Boy Meets World
, and
Ally McBeal
. She stood out in the "Rush" episode of
X-Files
. While a small role, it was enough for us to remember her two years later as Syl on
Dark Angel
. Her resume is impressive; she also appeared on
CSI
,
CSI: Miami
, Ed,
Providence
,
LAX
,
Cold Case
,
Over There
, and
Law & Order
.
If you are still having trouble figuring out who she is, you are not alone. The issue is not with her abilities, but the casting agents' seemingly blind eyes. Here are some of her best performances:
Meg on Supernatural
Aycox was tasked with playing both a demon and the girl whose body was hijacked by said demon. In layman's terms: a supernatural schizophrenic. The show itself revolves around the Winchester brothers, Sam and Dean, but when Aycox is in frame all eyes are on her. She oscillates from a wide-eyed, innocent hitchhiker who easily captures Sam's attention, to an eerily manipulative sadistic demon with Glenn Close-like precision.
Her performance garnered such a positive response from both viewers and the show's cast and crew that she was brought back for a single episode in season 4 ("Are You There, God? It's Me… Dean Winchester"). Her influence was so pivotal it has even woven itself into academic analysis of the show. April Boggs, an award-winning film and television scholar and critic, even makes a point of mentioning both Aycox and Meg's character in her work.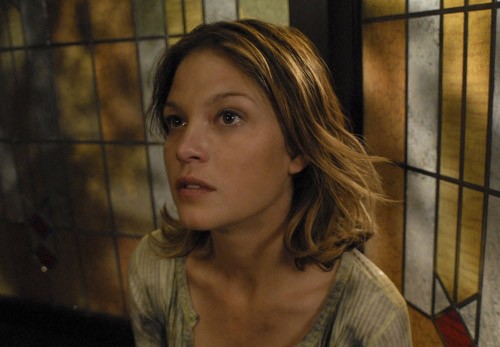 Image © "Are You There God? It's Me, Dean Winchester" - Nicki Aycox as Meg in SUPERNATURAL on The CW. Photo: Sergei Bachlakov/The CW©2008 The CW Network, LLC. All Rights Reserved.
Melissa on Joy Ride: Dead Ahead
The direct-to-DVD sequel to
Joy Ride
is better than its older sibling; mostly due to Aycox's tongue-in-cheek performance as the horror genre's most famous of character types, the Final Girl. The film itself is a perfect textbook for those who appreciate the horror genre and will understand the many "in-jokes" it has to offer (example: the villain's name is Rusty Nail).
Aycox's performance is somewhat bittersweet. Her portrayal of Melissa, the film's heroine, is successful in keeping the audience sutured throughout the entire film. The disappointment lies in the fact that her ability is so clearly wasted in this type of production. This role was clearly written for one of the aforementioned actresses (possibly perfect for someone like
Jessica Simpson
).
Amber on Criminal Minds
Her season two single episode appearance ("The Perfect Storm") was worth purchasing the show on DVD. Again, given the chance to work with a complex character role, she outshined the cast. The issue here, however, is with the possibly of mistaking her as merely a character actress. As this show is a standard crime drama, it is better to watch this single episode than simply read a synopsis. Find it online, rent it on Netflix, etc., as it is a perfect introduction to her work.
The solution here would be a prime film or television role (longer than a few episodes) to bring her into a wider media spotlight. A film role suggestion? She could play Harley Quinn, if there is a third installment of
Christopher Nolan
's Batman-verse. In the world of television she will soon be found in the new crime drama, "Dark Blue," which starts July 15 on TNT. Unlike standard cop dramas, this show focuses on undercover cops- perfect for actors with significant ranges. It may seem like another generic crime drama, but hopefully on TNT, with their impressive track record with
The Closer
and "Saving Grace," it will gain Aycox media coverage that is a long time coming.
Story by
Sarah Lafferty
Starpulse contributing writer