One Direction's Louis Tomlinson Tackled Hard During Charity Soccer Match, Vomits On Sideline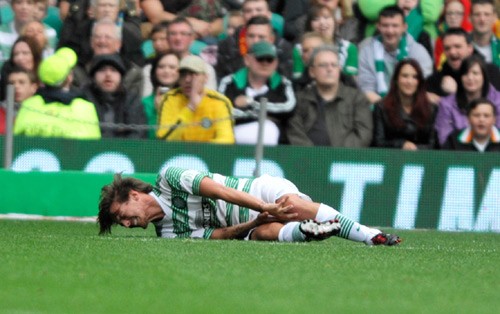 Louis Tomlinson did not expect to be clutching his knee in pain when he signed up to be a part of a charity soccer match in London.
The One Direction singer was gingerly moving the ball during the game when he was slammed into by professional player Gabriel Agbonlahor. Tomlinson hit the ground hard and immediately reached for his knee. After rolling on the ground for a few moments, he managed to limp off the pitch.
However, that was not the end to Tomlinson's troubles. The pop star kept wiping at his forehead and looking troubled as he moved to the sideline to be subbed out, and finally vomited in front of his team's bench.
Angered fans of the boy band attacked Gabriel on Twitter for his tackle. Metro reports that one tweet, now deleted, read, "This guy hurt Louis knee. I shall hurt your face. I better hear that you apologized or I will find you, and I will kill you."
Metro said of the tackle, "It was just one of those things. I'll apologize to Louis when we meet up with everybody else after the game."