One Direction's Harry Styles Gets Huge Butterfly Tattoo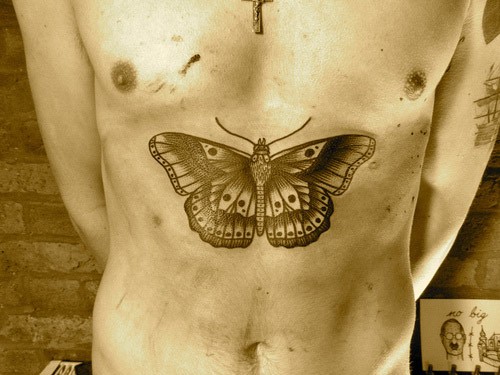 One Direction star Harry Styles got some new ink to add to his already huge collection of tattoos, the latest one a giant butterfly done by artist Liam Sparkes of London's Shangri-La Tattoo Parlour.

One look at Liam's other works on his tumblr and flickr pages shows that the artist often inks similar designs on his patrons.

In fact, a lot of Liam's work is a bit disturbing, actually, and rightly so with the flickr handle "liam666."

The photo of Harry's new tat, since removed from Sparkes's pages, started making headlines only recently despite being posted on January 22.

A rep for Harry told E! News that despite not seeing Harry's face, it's definitely him in the photo (another tipoff is the ship on his left arm).

The singer now has over 30 different tattoos, including a pair of swallows on his chest, theatre masks, crucifixes, a star, various phrases, a shamrock and a screw. He's also got the words "17 Black" inked, which is a reference to James Bond's lucky roulette number (London's Daily Mail has more pics of Harry's tattoos and a listing of most of them here).

1D's Niall Horan is reportedly the only member of the group who doesn't have any ink.

And here we thought butterfly tattoos were just something college girls got on their lower backs to express their individuality.