One Direction's 3D Concert Movie To Hit Theaters In August, Directed By Morgan Spurlock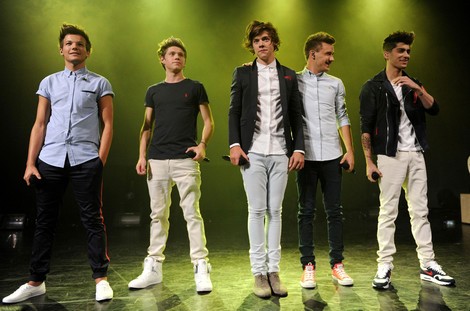 One Direction is joining the 3D concert movie craze, and they have a big-name documentary filmmaker behind the camera.
Morgan Spurlock will be filming the concert (or maybe concerts, if they need more footage) for the movie. Spurlock is the man behind Super Size Me, Where in the World is Osama Bin Laden?, and The Greatest Movie Ever Sold. 
"We are going to do our first-ever movie and it's going to be in 3-D and it's coming to cinemas near you on the 30th of August, 2013," Niall Horan told the Today Show after their live performance. 
"This is an incredible opportunity and an amazing moment in time for the band. To capture this journey and share it with audiences around the world will be an epic undertaking that I am proud to be a part of," Spurlock said in a statement.
Producer Simon Cowell added, "I'm delighted we're making this film and Morgan is the perfect person to give that access-all-areas, behind-the-scenes look into what it's like to be One Direction today." 
Justin Bieber and Katy Perry also released concert films, Never Say Never and Part of Me. Both films included documentary footage outside the concert.