'One Direction: This Is Us' Explores And Entertains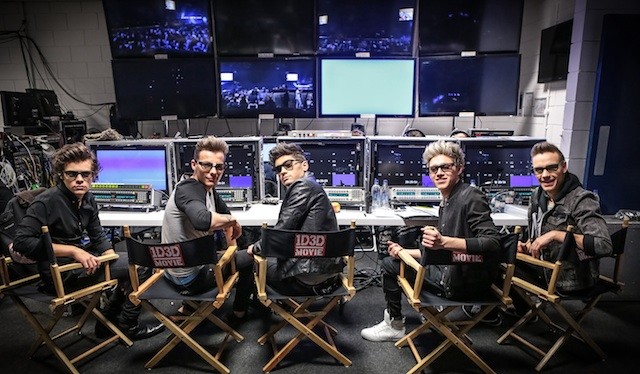 One Direction's new 3D concert documentary, This Is Us, is being called a "docubuster" by the film's director Morgan Spurlock. Summer is known for movie blockbusters, super action heroes, and blowout concerts, but documentaries?  Spurlock ends the summer with this one, because it's a behind the scenes of the phenomenon that is One Direction.
For fans of this British boy band, the film certainly appeals to the legions of screaming tween fans despite the fact that they probably already know more about the band than the documentary presents. For the rest of us, the picture is a highly entertaining, intriguing, hilarious and grounded look at what life is like behind the curtain of major global stardom for a special group of guys.
The film follows the lives of Niall Horan, Louis Tomlinson, Harry Styles, Liam Payne and Zayn Malik during their world tour. It also dives into the boys' rise to global fame from their humble, working-class background to their time on UK's "The X Factor" through their redemption and success spurred on by their fans as well as uncertainty with how long this phenomena will last and where their collaboration will end.
Humorous, quick British quips and scenes of countless screaming girl fans is very much a nod to the Beatles in "A Hard Day's Night," but that is where the similarities end as this is a documentary that carries more of an adult element. The themes of struggle, success, isolation, exhaustion and uncertainty creep through the movie, educating the groups teenage fans that life is not one big glamorous show. In one scene one of the parents of the boy's say, "I haven't seen him in months." Spurlock balances the grit and unspectacular life on the road with the fun and energy when you land in the public eye. The concert footage is extremely entertaining thanks in part to the backstage antics of Harry and Nials .
A number of critics have panned the film and accused director Spurlock of making a sanitary promo for the boys, because the film fails to deliver on its promise of all-access pass to the group by not showing any typical teenage bad behavior, i.e. smoking, partying or romance (I mean Harry Styles was seen drinking a beer at the VMAS and was known to be dating pop star Taylor Swift months ago). Spurlock defended his choice to not show the boys' romantic lives saying they are young guys who break up and make up, and I didn't want to have a hole in my story. What the critics have forgotten is that showing the typical crazy adolescent behavior may be a bit unsavory and would likely alienate its core target audience (young girls bringing their parents). To be honest, a documentary that shows poor conduct, whether or not the boys engage in "Lindsey Lohan" behavior, would be for an adult audience and not suitable for the film's target. The boys are very sensitive to the age of their fan base. Harry even joked at a recent press conference, "we are positive…except for our drug test those are negative."
Overall, This Is Us, earns an A+ because it carries its young audience on a truly entertaining and hilarious ride.  Furthermore, it has heart and grown-up themes for the rest of us, which will most likely turn you into a fan of One Direction if you are not already (no superhero costume needed).