One Direction Host Global 'Bring Me To 1D' Fan Event
Following their kick-ass performance at Madison Square Gardens in New York City, the world's most famous arena, British boyband One Direction hosted a global fan event where they met competition winners from over 40 different countries.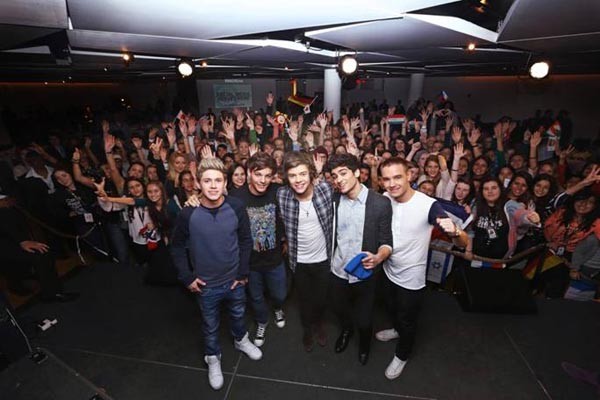 The 'Bring Me To 1D' campaign started in the summer and it saw fans around the world competing for a chance to win a 'Go1Den' ticket through various challenges, creating content, answering questions or just plain luck. An interactive map on the band's website constantly updated itself with the locations of various winners as each ticket was discovered – from Costa Rica to the Philippines!
The prize with each 'Go1Den' ticket was a once-in-a-lifetime trip to New York to see One Direction's amazing MSG concert – which featured a cameo performance from Ed Sheeran – followed by a special fan event today where band members Liam Payne, Niall Horan, Louis Tomlinson, Harry Styles and Zayn Malik met the winners and thanked them for their support during a whirlwind year.
One Direction's second studio album Take Me Home was released in Nov 2012 and the album debuted at #1 in over 35 countries. The 'X Factor UK' alumni became the first British act to debut at No. 1 on the US Billboard chart with each of their first two albums.