One Direction Claims Yet Another No. 1 With 'Midnight Memories'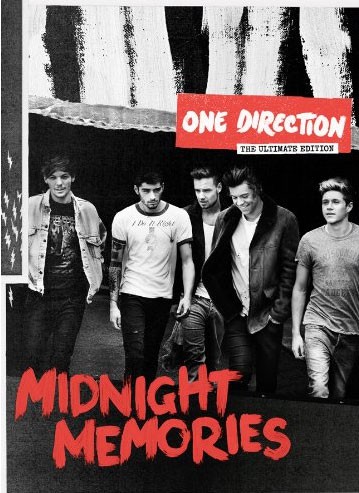 One Direction do the predictable – debut at no. 1 and move lots of albums.  Midnight Memories managed to sell 546,000 copies, giving the Brit-Irish boy band its largest sales week ever.  2012 sophomore album Take Me Home moved 540,000 copies to give the band a second no. 1 in the US.  It was history when their debut effort, Up All Night,  debuted in the top spot in early 2012, though its numbers were just a fraction of what the  last two studio albums have sold (176,000).  As for newbies on the chart, Garth Brooks does some work as Blame It All on My Roots sold 164,000 copies good for a no. 3 bow.  That is awesome considering it's a box set.  Box sets tend to be more expensive and generally move less copies.  Given it's release during the Black Friday hubbub and its exclusivity via Walmart, it's not shocking Brooks had some takers.  Besides One Direction and Brooks, the week was all about previously releases efforts. 
Eminem once more was forced from the top perch to no. 2, but sold 199,000 more copies of The Marshall Mathers LP 2 (already platinum).  Others holding over include The Robertsons' Duck the Halls: A Robertson Family Christmas (no. 4), Katy Perry's Prism (no. 5), Kelly Clarkson's Wrapped in Red (no. 6), Lady Gaga's ARTPOP (no. 7) and Luke Bryan's Crash My Party.  What is significant about those albums? They all sold > 100,000 copies.  Miley Cyrus also and Now 48 close out the top ten at nos. 9 and 10 respectively, but sold 79,000 and 77,000 copies, breaking the >100,000 copies sold.  
Lorde's Hot 100 reign is officially over with "Royals" – well at least for the time being.  It was a nice nine weeks for Lorde, who has no reason to hang her teenage head. Miley Cyrus' "Wrecking Ball" climbs it way back to the no. 1 spot.   "Wrecking Ball" is the song that just can't keep people from talking, really!  Better yet, it can't keep people from making their own versions…
Whose Got Next?  Britney Spears of course, but the numbers are looking relatively small, with Billboard prognosticating between 115,000 to 120,000 copies sold. Yuck Britney! Why those numbers suck? Well, Britney is usually a lock for no. 1 or at worst no. 2 like Blackout, however, the numbers may not be strong enough to hold back previously released (aka holdovers) from charting ahead of the pop diva.  Could Spears be blocked out of the top 3? Possibly.  Besides Britney, it's a pretty boring week for new releases.