One Direction Behind Bars For 'Kiss You' Video
Please don't freak out when you read the title of this article.
Yes, British-Irish boyband One Direction were in the slammer for a while, before breaking out of prison with their bad-ass motorcycles and fleeing to Hawaii where they wore shirts that practically screamed, "I'M A TOURIST!"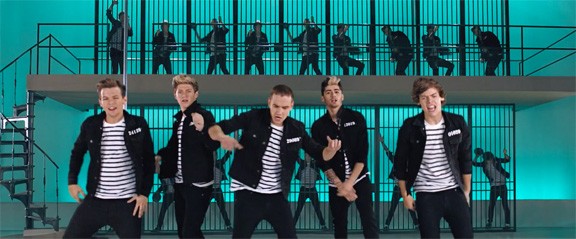 Don't worry people, One Direction's legal record, as far as we know, is squeaky clean and Zarry isn't real (or is it...?). The boys were "jail-rocking" in their music video for their latest U.S single "Kiss You". Just like most of their music videos (actually, all of them with the exception of "Little Things"), the music video is fun and upbeat, just like the song. The boys surf, ski, hot rod and do a little jailhouse rock – all in the confines of wherever-on-earth-the-studio-where-they-shot-the-video-is.