Omid Djalili: 'It Was Wrong To Celebrate Osama Bin Laden's Death'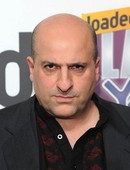 Actor/funnyman Omid Djalili was upset by the celebrations that followed news of the death of Osama Bin Laden, insisting it was an "outrage" for U.S. troops to gun down the terrorist leader.

The British-Iranian star, who has had roles in Sex and the City 2 and Pirates of The Caribbean: At World's End, was disgusted by the scenes of jubilation, televised around the world, which followed the announcement by President Barack Obama earlier this month that bin Laden had been shot dead during a raid on a compound in Pakistan.

Djalili tells The New Review magazine, "It was wrong for people to celebrate bin Laden's death. It just shows what an unevolved society we are. I saw lots of people on Twitter saying, 'I hope this is closure for all the people who were killed in New York,' but we don't even know for sure it was bin Laden (who masterminded the 9/11 attacks)."

"For me, the killing is an outrage, and I'd rather have seen him on trial. I'd love to see the Pakistanis going into America demanding to kill their terrorist and the Americans saying, 'Bush, he's in Texas, you're welcome to him.'"