'Olympus Has Fallen,' 'Girls' Season Two & More Available On DVD, Blu-ray, Or VOD Aug. 13, 2013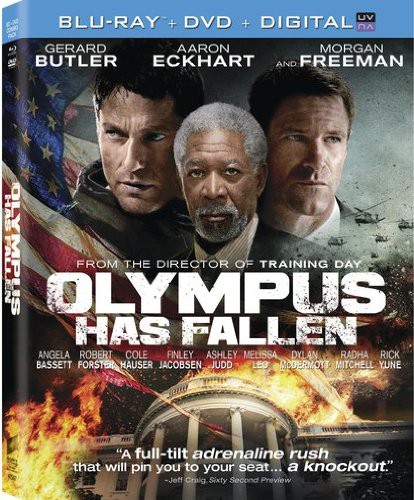 When the President is kidnapped by a terrorist who seizes control of the White House (Secret Service Code: "Olympus"), disgraced former Presidential guard Mike Banning finds himself trapped within the building. As the national security team rushes to respond, they must rely on Banning's insider knowledge to save the President and prevent an even greater catastrophe. Gerard Butler, Aaron Eckhart, and Morgan Freeman star in drama "Olympus Has Fallen."

Children's film "The Muppet Movie: The Original Classic"

See how the Muppets began, with the nearly 35th Anniversary Special Edition of the original, classic that started it all — The Muppet Movie, produced by the cultural icon and Muppet creator himself, Jim Henson!  Witness the hilarious origins of everyone's favorite Muppets - Kermit the Frog, Fozzie Bear, Miss Piggy, Gonzo, Animal, and the rest — as they embark on an inspirational and laugh-filled road trip to follow their Hollywood dreams. 

Drama "What Maisie Knew"

A contemporary reimagining of Henry James' novel, What Maisie Knew tells the story of a captivating little girl's struggle for grace in the midst of her parents' bitter custody battle.  Told through the eyes of the title's heroine, Maisie navigates this ever-widening turmoil with a six-year-old's innocence, charm and generosity of spirit.

Comedy "The Hot Flashes"

Hot Flashes is an unlikely group of middle-aged women who challenge the high school girls' state basketball champs to raise money for a mobile breast cancer screening truck to continue its work. Sparks fly as the women go to comic extremes to prove themselves on and off the court, gaining a new lease on life.

Documentary "Junior"

Eddie Belasco is a 75-year-old Italian-American who seems to have jumped from the pages of a Scorsese script, except he lives with his 98-year-old "Ma," Josephine. Luckily, their senses of humor match their levels of irritability. Together they fight and laugh in equal measures as the difficulties of aging and living in a changing neighborhood catch up with them. Eddie was always one to love the limelight, trying his hand at acting and managing topless female rock bands and now is running a non-profit theatre group for young people. In the meantime, the spotlight is squarely on Josephine, with the local press running to her as she finally gets her high school diploma. Cinedigm will be releasing the documentary on VOD August 13.
Thriller "Abandoned Mine"
In "Abandoned Mine," five small-town school friends celebrate Halloween with an overnight adventure into the legendary haunted Jarvis Mine.   Local legend tells of the angry spirits that have occupied the mine since a family was murdered for still mysterious reasons exactly 100 years ago.  But that doesn't stop these young adrenaline junkies from exploring the unknown and bringing mini-cameras to capture their every move. "Abandoned Mine" starring Alexa Vega hits theaters and VOD August 15th.
"And While We Were Here"
An estranged married couple (Kate Bosworth and Iddo Goldberg) head of to the beautiful Island of Ischia, off Italy's Amalfi Coast, where life gets complicated when she begins a romantic affair with a younger man. Releases Pre-Theatrical August 13 on Amazon Xbox, iTunes, Playstation, CinemaNow, Vudu, Google Play, Youtube, and DVD (through Well Go on 11/12/2013).
Also on DVD, Blu-ray and/or VOD:

The Big Wedding
The Company You Keep
The Extraordinary Adventures of Adèle Blanc-Sec
Enlightened: The Complete Second Season
Girls: The Complete Second Season
Once Upon a Time: The Complete Second Season
Southland: The Complete Fifth and Final Season
The Mindy Project: Season One
Combat!: The Complete Fifth Season