Olympic Gold Medalist Alex Morgan Shows Her Toned Figure In A Bikini While In Hawaii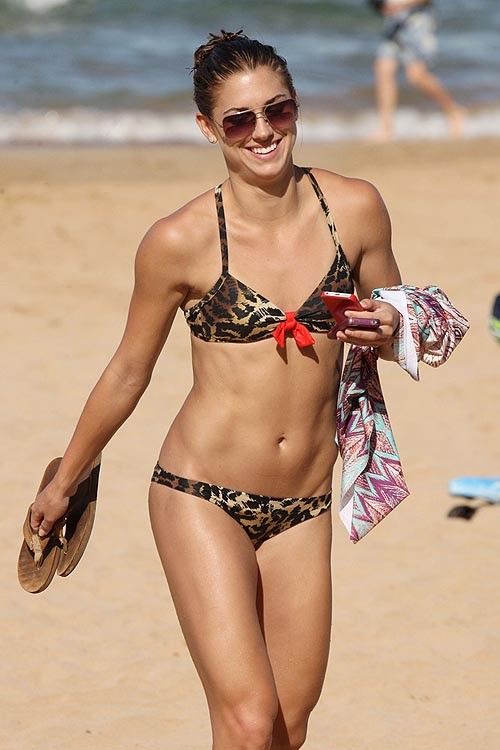 Olympic gold medalist Alex Morgan was spotted in the Aloha State on Thursday taking in some canoeing, paddleboarding and beach volleyball.

The sexy soccer player, who has her jersey number tattooed on her hip and took home the gold with her team at the 2012 London Olympics, smiled as she left the beach wearing a skimpy bikini and flaunting her solid body.

"Went paddle boarding at @FSMaui (Four Seasons Maui) and met a few friendly sea turtles! Just the beginning of a relaxing vacay :)" she tweeted on Wednesday.

In related U.S. soccer news, Alex's teammate, goalie Hope Solo, married NFL player Jerramy Stevens last month in Washington state, just a day after he allegedly assaulted her.

The couple dated for only two months prior to tying the knot.

The wedding still took place despite the domestic dispute the night before -- but things started three hours late because Stevens had to appear on court to face the charges for the crime, which is still under investigation.

Solo lashed out on Twitter after all the media coverage of the alleged altercation.

"I feel bad for all the ignorance in the world. People are so quick to judge," she wrote. "The media spins stories in such dramatic fashion. I will continue to show love, and never make judgments. I am blessed w True Love & the beautiful game of soccer. I wish everybody the same happiness."

Hope and Jerramy married on a farm near Snohomish, Washington.