Olivia Wilde Is Considering Lead Role In Third Linda Lovelace Movie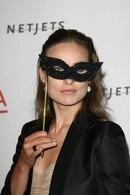 Olivia Wilde is contemplating going head to head with Kate Hudson and Malin Akerman and portraying one-time adult film star Linda Lovelace in yet another biopic about her life.

Almost Famous star Hudson will begin shooting her film later this year, while Akerman is near completion on her rival movie Inferno: A Linda Lovelace Story, which was originally supposed to feature Lindsay Lohan.

Now the Tron Legacy beauty has voiced her interest in playing the troubled blue movie legend on screen and reveals she's in talks to lead the cast in a third biopic, titled Lovelace.

She tells Eonline.com, "It would be a tremendous honor. It's such a cool role. She was a fascinating woman - with where she came from to Deep Throat to then working with Gloria Steinem and (filmmaker) Nora Ephron. It's really fascinating."

But Wilde insists she's yet to make a decision about the job.

She adds, "I'm being very careful about my next project since I'm now in a position where I can be really picky - thank God, finally."

Lovelace is a joint project from Oscar-winning directors Rob Epstein and Jeffrey Friedman.