Olivia Wilde: 'I Was Very Sexually Mature At A Very Young Age'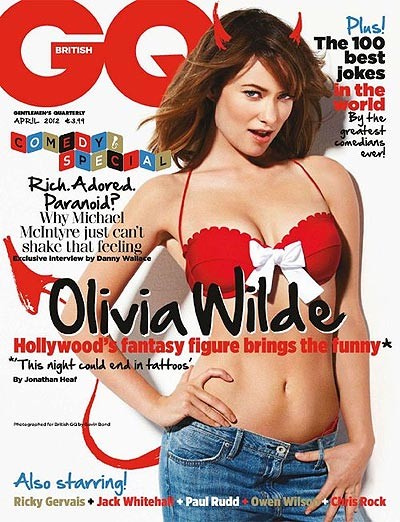 Olivia Wilde brings out her inner devil on the cover of the April 2012 "Comedy Special" of British GQ magazine.

The House star shows some skin in a pair of blue jeans and a sexy red Victoria's Secret bra with a white bow on the cover, shot by Gavin Bond; and talks about everything from her love of comedy to her sexuality.

"I wanted to be on 'Saturday Night Live' since I was 10," she says. "My father took me to a live taping on my birthday. Chris Farley was still in the cast and at the after party he had a brownie-eating contest. It became, like, a very valuable, powerful moment in my childhood. Seeing the energy of 'SNL' made me want to be a part of it."

Unfortunately Olivia still hasn't had that chance to host the show yet, but perhaps new boyfriend and current SNL cast member Jason Sudeikis can help convince Lorne Michaels to give her a shot.

Olivia also talks about her early sexual maturation and dropping out of the lead role in an upcoming biopic about porn star Linda Lovelace.

"I was very sexually mature at a very young age. I was very comfortable with it and talking about it, and once someone hears a young woman speak candidly about sexuality, it's like, 'Whoa!' You get labeled," she says.

As for Lovelace, Olivia says she, ahem, "pulled out" of the film because she didn't want her sexuality to interfere with the role.

"I decided that it should go to someone who is not already sexualized by the public," she says.

"Linda Lovelace was an innocent. Amanda [Seyfried, who replaced her in the role] will do an amazing job."

Check out more at GQ Magazine.co.uk and if you're in the UK, pick up a copy of the latest issue featuring Olivia Wilde and profiles on the world's greatest comedians, including Paul Rudd, Ricky Gervais, Chris Rock, Jerry Seinfeld, Robin Williams and a whole slew of funnymen (and women) - on newsstands everywhere now!
Watch the trailer for GQ's Comedy Special, which includes this much-talked about gif of Olivia...