Olivia Munn: 'I Get So Addicted To Video Games'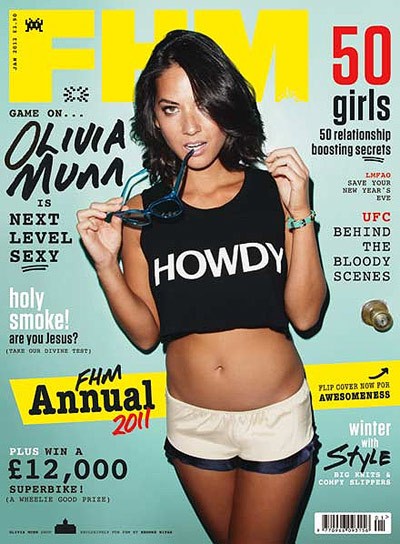 31-year-old actress & Daily Show correspondent Olivia Munn is the star of a sexy new photo shoot for FHM Magazine, including posing topless in a pair of denim cut-offs.

Olivia's career began with a gig co-hosting the G4 network's geek-themed Attack of the Show, and she's quite proud of her nerdy background.

"I get so addicted to video games. I get really focused in on it and I cannot live the rest of my life," she tells FHM, "So If I get into any kind of first person shooter game, I'm done and you won't see me. I'll skip meetings and stuff to sit in and work on my video games."

When asked what her longest streak is while gaming, Olivia answers, "I'd say Friday to Monday. You find that when you order enough Thai food in one delivery, you can reheat that s–t over and over."

Olivia also likes to talk about sex a lot, and in the January issue of the magazine she admits that she believes that no one can be perfect at it.

"When it comes to sex, I think anyone's an idiot to say they're an expert on it," she says. "I mean, I have sex, but it's individual for each person.

"You know, like, guys always have that one f***ing 'move,' - some stupid s**t, like putting his thumb in your mouth. And it's just like, "What are you doing? Who told you this was hot?"

Sex and video games? Sounds like Olivia might be the 'perfect woman' for millions of men out there, but one would have to be pretty funny to land a chance with the star of the upcoming Magic Mike.

She reveals that she'd "love to date a comedian."

"Stand-up comedians are really smart, brilliant people. To make someone genuinely laugh is a very hard task. If you have that ability, that means that you have empathy, you can feel things in life. And that's a very attractive quality in somebody. Those guys are smart," she explains.

See more of Olivia at FHM.com

Check out Olivia's smoking hot FHM video...