OK Go's 'White Knuckles' Continues Trend Of Viral Music Videos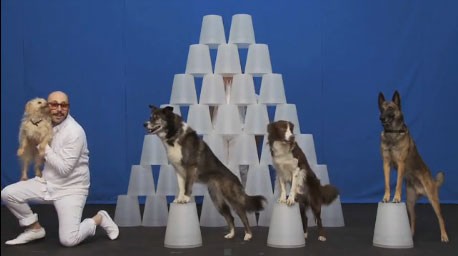 OK Go is no stranger to making viral hits out of their music videos. Through coordination and countless takes, the band makes a visual spectacle with their single-shot movies incorperating things like treadmills and - in this case - dogs.
Before you go all PETA on OK Go, it's important to note that these dogs are rescue pups from a local shelter and the band is urging fans to donate to their area shelter for animals. Also, they will be selling a video with proceeds going to ASPCA (American Society for the Prevention of Cruelty to Animals).
Previous OK Go videos have featured band members in ghillie suits in This Too Shall Pass (3 million YouTube hits), treadmills in Here it Goes Again (52 million YouTube hits), stop-motion over a period of several days in End Days (2.5 million YouTube hits), and a Rube Goldberg device in a second video for This Too Shall Pass (17 million YouTube hits). Check out a few clips from these videos below.