Oh Lordy, Look Who's 40! Chris O'Donnell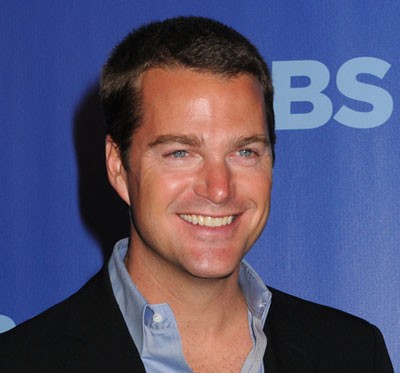 Where does the time go? It feels like such a short time ago that Chris O'Donnell was 17 years old and in the movie Men Don't Leave with Jessica Lange. On June 26 O'Donnell turns 40 years old, something that is surprising considering that even now his youthful good looks knocks 10 years easily off of his age.
He's had his ups and downs as an actor over the years, but at 40 he's on an upswing, so let's take a look at Chris O'Donnell and his rise to fame.

O'Donnell comes from a large family and has one of his own. He has five children with his wife Caroline Fentress! He started his career modeling and in commercials, but his break came in Men Don't Leave. He had features roles but not starring ones in Fried Green Tomatoes and School Ties, but it was the 1992 film Scent of a Woman that really put him in the map. In that film he played a young student who starts looking after a retired army Colonel. He received a Golden Globe nomination for Best Supporting Actor, but lost to Gene Hackman.



His next big role came in the form of tights: playing Dick Grayson/Robin in Batman Forever. The movie franchise for Batman had already been doing well with Tim Burton, but the third film got a new director and O'Donnell was one of the major additions. After Batman & Robin was a critical failure (but a box office success), O'Donnell dropped off the map for a few years. His films after that, including The Bachelor and Vertical Limit did okay, but not very well. He was gone for several years again out of the spotlight, only to resurface in Kinsey, a critical hit.

This was possibly when O'Donnell decided to move to television, and this turned out to be an excellent decision for him, even if it started off somewhat rocky. His first show Head Case was canceled quickly with only two episodes aired, but his stint on Grey's Anatomy was received well. He appeared in the TNT miniseries The Company, but it was his current role in NCIS: Los Angeles that brought O'Donnell back into the spotlight. This is the first NCIS spin-off and it has already been successful for the station, leading them to a full season pick up and then renewed for a second season. He stars as G. Callen, the leader of the group, who at first only seemed to have a troubled past as a foster child, but it now seems to be a genuine mystery as other things might be revealed about his past. He doesn't even know what his first name is, they just told him 'G.' How strange is that?

O'Donnell is entering his 40th year as a star of a successful new television show, which is much better than what he entered his 30th year as after Batman & Robin. He's no longer the Boy Wonder, and that's probably for the best. He can also be heard in the upcoming film Cats & Dogs: The Revenge of Kitty Galore and seen in A Little Help. Happy Birthday Chris O'Donnell, may we share many more with you and hope that 50 you'll be doing just as well!
See more photos of Chris here!