Oh Lordy, Look Who's 40! Catherine Zeta-Jones (Photos)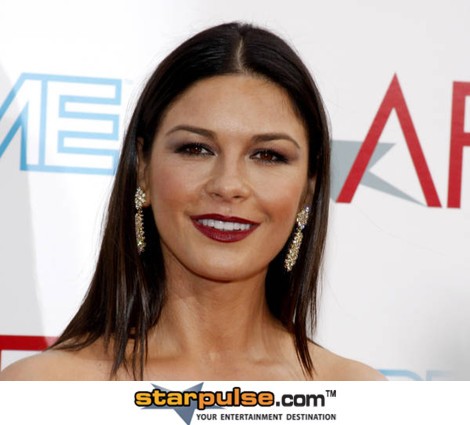 In 1969 Richard Nixon became president, the "Miracle" Mets won the World Series, Neil Armstrong and Buzz Aldrin took the very first lunar stroll, and
Led Zeppelin
's debut album was released. In addition to these historic events, 1969 was also the birth year of several Hollywood A-listers, including
Jennifer Aniston
,
Renee Zellweger
,
Cate Blanchett
, and this month's birthday girl,
Catherine Zeta-Jones
.
While there are plenty of reasons to venerate the year 1969, there is one catch to having it be your birth year. And that would be that the time has now come to bid your 30s adieu and face the most dreaded of b-days, the big 4-uh-0. Up until not too long ago, turning 40 in Hollywood meant that an actress' career was about to enter a middle age induced coma.
"There are only three ages in Hollywood: babe, district attorney, and '
Driving Miss Daisy
,'" an indicative, little wisdom pearl from
Goldie Hawn
's character in the 1996 comedy "
The First Wives Club
." Fortunately, however, turning 40 in Hollywood is no longer likened to having leprosy. The aforementioned quadragenarian actresses are still among the most beautiful and most bankable stars in the industry, and they are showing plenty of staying power.
Born on September 25, 1969, Catherine Zeta-Jones, a native of South Whales, was born to parents Patricia, an Irish seamstress, and David "Dai" Jones, a Welsh candy factory owner. As a child, Catherine got her first taste of acting while performing as Tallulah in "Bugsy Malone" and in the Swansea Grand Theater's production of "Annie." Her interest in theater quickly developed into a full blown zest, so she decided to enroll at "The Arts Educational Schools" in Chiswick, West London.
Catherine's dramatic certitude paid off, and she made her feature film debut at the age of 21 when she was offered the lead role in Philippe de Broca's "1001 Nights" a.k.a. "Sheherazade." Following this performance, Catherine spent much of her 20s acting in television projects like "Splitting Heirs" (1993) and "The Return of the Native" (1994). It wasn't until 1996, however, after her appearance in the CBS miniseries "Titanic," that Catherine got her big break when
Steven Spielberg
recommended her to director
Martin Campbell
for the role of Elena in 1998's "
The Mask of Zorro
."
After her swashbuckling success, Catherine continued to impress in films like "
Entrapment
" and "
The Haunting
." In her 30s, Catherine earned her first Golden Globe Award nomination for her role in the critically acclaimed "
Traffic
" in which she starred alongside her future hubby,
Michael Douglas
. Incidentally, Douglas and Zeta-Jones share the same birthday (Michael's birthday cake just has a few more candles on it than Catherine's does…25 more to be exact). So happy b-day to you too, Spartacus Jr.!
Two years after "Traffic" at the age of 33, Catherine popped, sixed, squished, and Lipschitzed her way to an Academy Award for her role in "
Chicago
" as the bitchtastic saloon siren, Velma Kelley. Since her golden glory, Catherine has lent her vocal talents to the animated movie "Sinbad: Legend of the Seven Seas," and starred in various other successful films, such as "
The Terminal
" (2004), "
Ocean's Twelve
" (2004), "
The Legend of Zorro
" (2005), and "
No Reservations
" (2007).
Now on the cusp of entering her fourth decade, Catherine is AOK with kissing her 30s goodbye. She recently reported in "OK Magazine" that she is looking forward to turning 40, "I feel much younger than I am. When you're 20, 40 looks really old. When I was nearing 30, that seemed like a major milestone." To celebrate her big day, Catherine is reportedly going to have a low-key dinner at one of her favorite Manhattan restaurants with her family, including her parents who flew over from Cardiff to be with their daughter on her special day.
Story by
Michaela Zanello
Starpulse contributing writer
- Click pic for next page -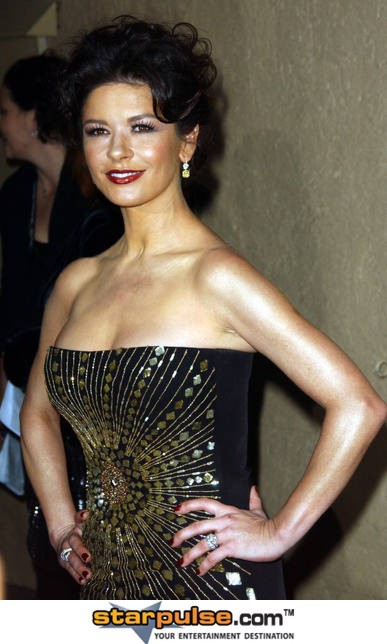 Image © PR Photos