Official Trailer For 'The Smurfs In 3D' Released; Watch It Here!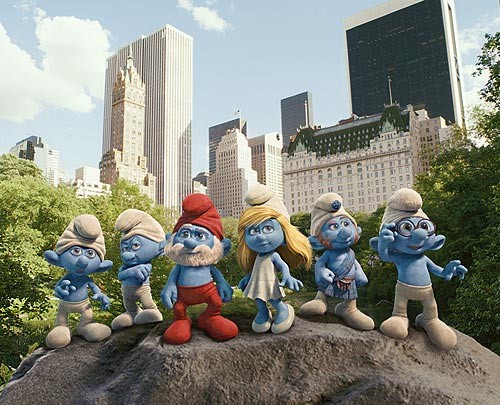 The first official trailer for The Smurfs In 3D has been released, and you can watch it right here.

The film takes place in New York City, where everyone's favorite pint-sized (actually they're "three apples high") blue gnomes find themselves after being chased out of their magical village by their evil nemesis Gargamel (played by Hank Azaria) and his mischevious cat Azrael.

After being forced through a portal to our world, the Smurfs end up in Central Park and looking for a way to get home.

The Smurfs is directed by Raja Gosnell, who also directed the two Scooby Doo movies and Beverly Hills Chihuahua; and in addition to Azaria also stars How I Met Your Mother's Neil Patrick Harris, Glee's Jayma Mays and Sofia Vergara, of Modern Family. The animated Smurfs are voiced by Jonathan Winters (Papa Smurf), Katy Perry (Smurfette), Anton Yelchin (Clumsy Smurf), Alan Cumming (Gutsy Smurf), Fred Armisen (Brainy Smurf), Paul Reubens (Jokey Smurf) and George Lopez (Grouchy Smurf).

Back in 2006 producer Jordan Kerner told MovieHole.net that he was planning for The Smurfs to be a movie trilogy.

"Having seen all 234 episodes of the show, we've been working really hard at looking where all the holes were in the episodes. What we've done is we've plugged all those holes in a trilogy of three movies, and we reveal things as we go along," he said.

We're not sure how it's going to be, but two things we do know is that August release dates aren't exactly known for Oscar material; and that it sounds like you can expect two more Smurfs movies after this one, regardless.
The Smurfs in 3D hits theaters August 3rd. Will you see it? Leave us a comment!

Check out the trailer!