Official Cast Announced For 'Star Wars: Episode VII'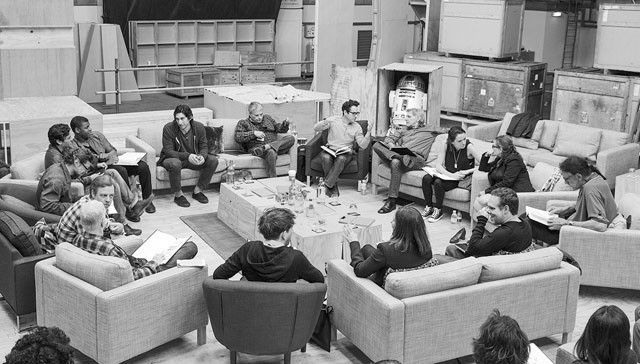 A day after reports that Harrison Ford, Carrie Fisher and Mark Hamill all happened to be in London, England, where Star Wars: Episode VII just happens to be filming, the official casting announcement for the film was released on StarWars.com. And, indeed, the three stars will be returning for at least the first film in the new trilogy.

Ford, Fisher and Hamill will also be joined by Peter Mayhew, who returns to the saga as the Wookiee Chewbacca and Anthony Daniels, who will once again don the gold outfit of droid C-3PO.

Ford prompted speculation earlier this month when he was photographed next to a director's chair with his name on it and another with the letters "CA" visible, presumably for Fisher.

Disney executives refused to comment on the rumors on Monday, but Tuesday's announcement confirmed the return of the original six characters, including that of Kenny Baker, who plays Daniels' counterpart R2-D2 (Baker's return was announced months ago).

"We are so excited to finally share the cast of Star Wars: Episode VII," Abrams said in a statement. "It is both thrilling and surreal to watch the beloved original cast and these brilliant new performers come together to bring this world to life, once again. We start shooting in a couple of weeks, and everyone is doing their best to make the fans proud."

Also joining the cast are the previously announced Adam Driver, John Boyega, Oscar Isaac, Andy Serkis, Daisy Ridley, Domhnall Gleeson and Max Von Sydow.

The film, which opens December 18, 2015, was written by Abrams and Lawrence Kasdan, who co-wrote "The Empire Strikes Back" and "Return of the Jedi."

Composer John Williams has also been confirmed to score the film.