'Off the Map' Review: Not Just 'Grey's Anatomy' In The Jungle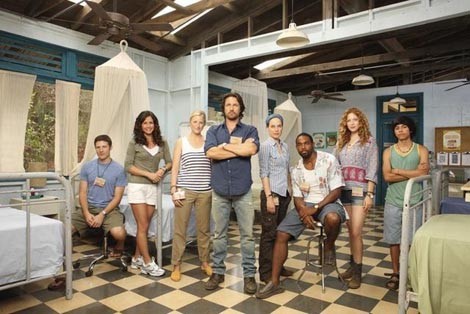 The season premiere "Off the Map," a new medical drama from the producers of "Grey's Anatomy," aired this week on ABC. Theorized as Seattle Grace meets the South American rainforest, can this new TV show keep up with the standards set by "Grey's Anatomy" and "Private Practice" to hook its own set of loyal fans?
 Series creator and writer Jenna Bans, executive producer Shonda Rhimes (of 'Grey's Anatomy' and 'Private Practice' fame), and actor James George, who plays Otis Cole on the show, participated in a live Web chat via Facebook two days before the series premiere. The trio offered countless fans insight into the workings of the show, the characters and what to expect from season one; you can read the details of the interview in this article.
 The series premiere of "Off the Map" began with an incredible series of views of the South American landscape. Three new doctors, Dr. Lily Brenner (Caroline Dhavernas), Mina Minard (Mamie Gummer) and Tommy Fuller (Zach Gilford), arrived in a rickety raft which prompted the delicious Ben Keeton (Martin Henderson) to leap off a cliff and save them. The setting is the small, rural town of "La ciudad de las estrellas" (the City of Stars), which offers a modest medical clinic and a lack of quality physicians. The newcomers joined current physicians Zita "Zee" Alvarez (Valerie Cruz), Otis Cole (Jason George), and Ryan Clark (Rachelle Lefevre), who didn't hesitate to recommend Lily keep the number for the taxi service. Charlie (Jonathon Castellanos), a local boy who barters his translating services, rounds out the six-actor core team.  
 Lily Brenner, who is obviously the enthusiastic, naïve member of the new doctors, found herself face to face with the sarcastic and competent Zee at the clinic. "Ahh, another American. Saved by the Great White Hope," Zee offered by way of greeting in her rich accent, much to Lily's confusion. "Forget what you saw in residency," instructed Ben. "You're standing in the middle of the greatest medical resource on earth." Ben, the exotic version of McDreamy, apprently hand-picked the trio of new physicians from over 100—and he obviously expects them to perform accordingly.  As it stands, he's a rugged, experienced tropical rainforest doctor; I can't wait to see a hint of vulnerability beneath that composed exterior.
 Lily managed to land the first field trip expedition, thanks to her already-packed trauma kit. Mina found herself under the guidance of Zee at the clinic, and Otis sent Tommy to a remote hut to treat four tuberculosis patients. With Charlie as his guide, Tommy survived the trek to the patients, only to find the mother dead. The father refused further treatment for he or his children, claiming that the medicine was what killed his wife. Tommy decided there was nothing more he could do, to Charlie's obvious disappointment.
 Meanwhile, Ben and Lily arrived at the scene of the accident in the jungle, only to find their patient, Ed, suspended from a zip-wire far above their heads and out of reach. As an added bonus, the line wasn't guaranteed to support two occupants, let alone three, so Lily got to go out solo with Ben on a separate line issuing directions. The patient seemed to be in shock until Lily started to put a tourniquet on his arm in preparation of cutting his flesh loose from the pulley; a few shouts later, and she managed to calm him down and allow herself to get them both back on the ground. Ben brought up Lily's leave of absence prior to her arrival, and she explained that she had lost someone. "But I'm good now," she assured him. "I'm a doctor."
 Back at the clinic, Zee vented her frustrations to Otis about the constant stream of new doctors coming and going. Redheaded physician Ryan was seen leaving via taxi at the beginning of the episode, which obviously set the tone for Zee's reaction to the new trio of doctors. The banter between Zee and Otis hinted at romantic undertones, which may be the first secret tryst viewers will see on "Off the Map." By the end of the episode, Ryan had returned, whom viewers will no doubt come to love or hate in the next few episodes of "Off the Map" for apparently being Ben's lover.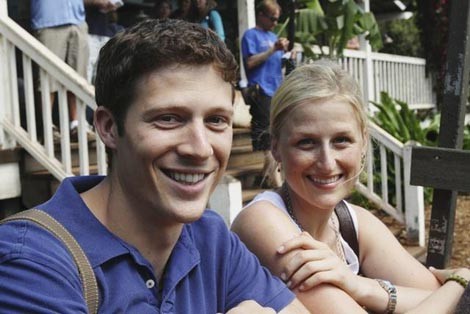 Lily and Ben returned with their patient, and Lily learned the painful truth that air lifts and city medicine are never conveniently at-hand in South America. Tommy informed Otis that his patient had died, and that her husband was refusing treatment; a showdown ensued. "You're not stupid; you're lazy," Otis accused him. "You were supposed to be a doctor. First light, you will haul your ass back up there, and you will treat those people—every last one of them, or don't bother coming back." Tommy joined Mina and Lily later that evening at a party, and lamented that they hadn't received a chance to start-over in coming there; it seems that Tommy is well aware of his reputation as a bad doctor, and neither Mina nor Lily seemed thrilled that the staff doctors had done their homework on them.
 The next morning found Lily struggling to save Ed, who took a turn for the worst during the night. Zee, Ben, Otis and Lily performed exploratory surgery only to find multiple internal injuries. "We don't have enough AB negative for this blood loss," Otis lamented, and Ben took off with Lily into the jungle. He explained he would be using the water from green cocoanuts as a replacement for blood in a transfusion, much to Lily's shock. "They used it in World War II when they ran out of fluids," he explained, before shimming up the tree trunk. Having obtained the unripe cocoanuts, they headed back into the operating room to begin the transfusion. When Ben asked for Lily's assistance, she balked, explaining she wasn't a surgeon. "Here you're a surgeon; you're a paramedic; you're search and rescue; if I need you to run labs to the city you're the mail man. You're anything I need you to be," he replied.
 Tommy and Charlie headed back into the jungle that morning, in the wake of Otis' warning, for another attempt at treating the tuberculosis patients that morning. "I don't get to come in here and tell you how to take care of your family," Tommy explained to the father in a moment of desperation, without the aid of Charlie's translating. He told the man he'd moved away from home, partied too much, and now couldn't return with his lack of success. "I lost my family because I was proud; I don't want you to do the same thing. Come on man, let me help you." Charlie offered a token comment in Spanish, and the man finally agreed to Tommy treating his children.
Meanwhile, the native woman Mina had attempted to send home with a viral infection collapsed on the floor of the clinic, forcing her to fly solo with the other staff members already in surgery with Lily's patient. Neither Mina nor the other two new physicians speak Spanish, which Mina quickly learned made working with the native nurses slightly difficult. The woman had undiagnosed asthma, and Mina only had to give her an inhaler. Later that night, the patient's Granddaughter visited Mina. "My Grandmother is 80 years old, and today she took her first real breath. She said that because of you she finally knows what it feels like to breathe." They offered Mina a chicken in exchange for her services; naturally, she was less than thrilled to have a clucking bird in her hands.
Lily came to relay her experiences to Mina after her successful surgery, only to find her fellow newcomer at her wits' end. Lily told her to hear hoof steps and think horses, not zebras. "At my hospital, they like to weed out the weak. You had to fight to get on cases, made it pretty much impossible to learn anything, so I started moonlighting at County," she confessed. "One day, after 72 hours without sleep, this kid came into the ER with a fever. I thought it was the flu, 20 kids a day, it was always the flu—so I sent him home, and he died." Turns out, the patient had bacterial meningitis, but she'd been too tired to give it her full attention.  "So sometimes, it is zebras."
 In a complete tug on the heartstrings, and in true "Grey's Anatomy" fashion, Lily had a showdown with Ben and the others as they prepared to load her patient on the helicopter. Ed had explained that he was in South America to spread his wife's ashes; that he regretted never getting back there while she was still alive. She told the others they had to take him to finish this task, despite the risks to his health—what physician wouldn't do that, after all? Ben agreed, rowing Lily and Ed out into the center of the pond. When he disturbed the water, countless microscopic organisms started to glow fluorescently. "We made it, Cora; you're with the fireflies now. We made it, Sweetheart," Ed croaked, spilling the ashes. Turns out, the person Lily lost was her fiancée, which she confessed to Ben on their way back from sending Ed via Chopper into the city.
Without a doubt, "Off the Map" is a different show from "Grey's Anatomy" and "Private Practice." It offers a rich, new cast of characters, and the added trouble of a difficult location for the team of doctors. There will be plenty drama, heartwrenching deaths and probably a few love triangles during the 13 episodes of season one; will you be watching? Leave a comment and let us know!