Octomom Seriously Considering Doing Porn After Filing For Chapter 7 Bankruptcy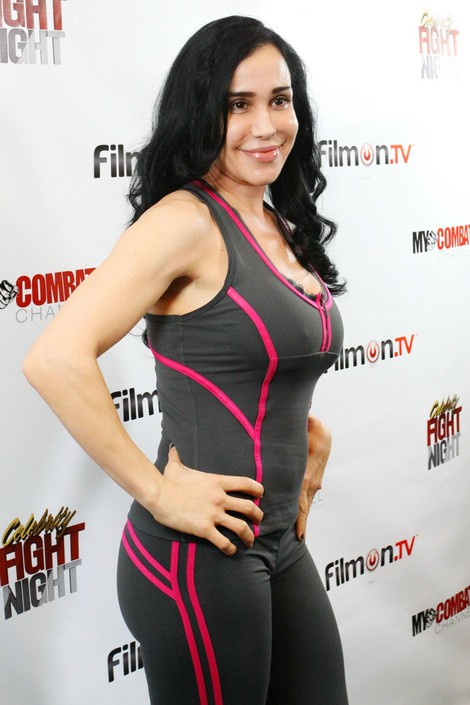 Nadya "Octomom" Suleman filed for Chapter 7 bankruptcy protection on Monday after falling a reported $30,000 behind on her rent and accumulating nearly $1 million in debt, according to her court filing; and now she's actually ready to "eat her words" and consider working in an adult film.

"I have had to make some very difficult decisions this year," she says in a statement, "and filing Chapter 7 was one of them. But I have to do what is best for my children and I need a fresh start."

Three years ago, porn giant Vivid came to Suleman with an offer to pay off the mortgage on her house - now in foreclosure - if she agreed to film just one sex scene, but she declined the offer and said that she would "never" do porn or pose nude for money.

Since then the funds have all but dried up for the 36-year-old single mother of 14, who recently bit the bullet and went on welfare; and after realizing celebrity boxing matches, PETA campaigns and posing semi-nude for magazines like the UK's Closer (for which she was paid only $8,000) aren't going to cut it, she may soon be showing off more of her cellulite on celluloid at your local skineplex.

"If it's a job, and it's a well-paying job, and it's going to allow me to get us out of here and into a very safe huge home that they deserve, then I'm going to do it," she tells Nischelle Turner of Headline News' "Showbiz Tonight".

But there's one caveat: "I wouldn't even kiss somebody for money," she said. "I would not kiss somebody. I wouldn't touch somebody."

Last week Octomom was investigated by child services over reportedly living in squalor, but she claims it was all a setup and that officials found nothing wrong with her living situation.

We're not sure what the going rate is for being in an adult film without touching or kissing another person is, but it can't possibly be as much as her original offer. But perhaps, in time, she'll be willing to go just a little further.

"You know, if the opportunity comes up, I'll be the first to admit I'm gonna eat my words, because all that matters is that I can take care of my family," she said.