Octomom Says She Isn't 'Loose'

Last week, Nadya 'Octomom' Suleman was offered a deal from erotic movie production company Vivid Entertainment to help save her home from foreclosure in return for her stripping off and "performing" in one of their adult films.

But the mother of 14 declined their offer and also revealed that she's planning to write a book soon. When asked about the reported porn deal in a video posted on TMZ.com she said, "They're just giving me more material for my book."

The celeb also claims that she's received several letters from the company - but that the odds of her taking them up on their offer are about the same as her "jumping out of an airplane without a parachute."

Vivid has released sex tapes from celebs in the past such as Kim Kardashian, Shauna Sand and former Miss USA Kelli McCarty, and are still looking to add Octomom to their growing list. Founder and co-chairman Steve Hirsch said about the company's most recent attempt, "We have sent Nadya a letter offering to sit down and work out details that would be most comfortable for her."

But despite the offer, Suleman was spared foreclosure at the last minute - receiving a few more months grace period to secure another loan for her home, TMZ.com also reported.

Adding a little help was People for the Ethical Treatment of Animals (PETA), who paid Suleman a reported $5000 to put a sign on her lawn urging pet owners to spay and neuter their pets. The ad (below) was already run on several TV networks and in several publications for free; however PETA justified paying Suleman because of the "massive media attention" her home has been receiving.

"You really have to have loose boundaries to do something like this, and nothing about me is loose," she added.

Sure, Nadya.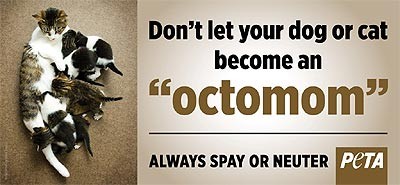 Click for more great Kim Kardashian pictures: