Obama Requests Song During Janelle Monae's White House Show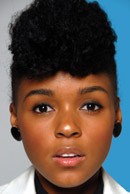 Janelle Monae was astonished when President Barack Obama asked her to perform his favorite track during her show at a White House state dinner this week.

The R&B star was invited to entertain 220 guests at the American leader's temporary home during a special event honoring South Korean President Lee Myung-bak on Thursday.

And she was left stunned when the president and his wife, First Lady Michelle, made a personal request for her to sing her hit song "Tightrope."

In a post on Facebook, Monae writes, "Just performed (at) The WHITE HOUSE for the State Dinner!!!!! President Obama and First Lady are BIG FANS!!!! WOW! I'm SO HONORED!!!!! They requested "tightrope"! ha!"