Obama Goes On Letterman, Receives Heart Potato (Video)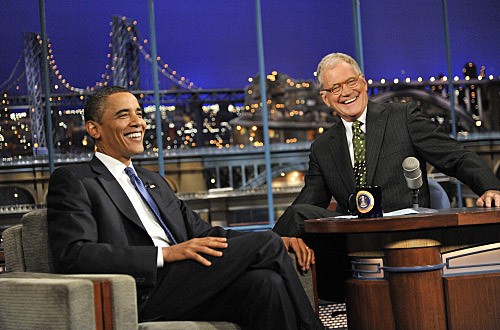 While Presidents become late night circuit mainstays after their term, it's rare to see one appear for a sit down interview while in office. But that's exactly what
Barack Obama
did on the
Late Show with David Letterman
. Video after the break.
On Sunday, Obama toured the news shows on NBC, ABC, CBS, CNN and Univision to define his health care plan for the American people - so a chance to have a laugh and relax with Letterman probably came as a welcome reprieve.
The President arrived to a standing applause and a rendition of "Hail to the Chief." He was also given a heart-shaped potato from a woman in the crowd in one of the night's more surreal moments.
There were a few serious questions, and Obama was asked for his thoughts on
Jimmy Carter
's recent comments claiming that the movement against him and health care overhaul had roots in racism. The President replied, "I was actually black
before
the election."
The toughest political commentary, however, came from Dave. His #2 reason why Barack Obama came on the show, as part of his Top 10: "Said 'yes' without thinking... like
Bush
did with Iraq."
Images © CBS Broadcasting
Story by
Casey Johnson
Starpulse.com contributing writer