O-Town Releases First New Single 'Skydive,' Announces Album Release Date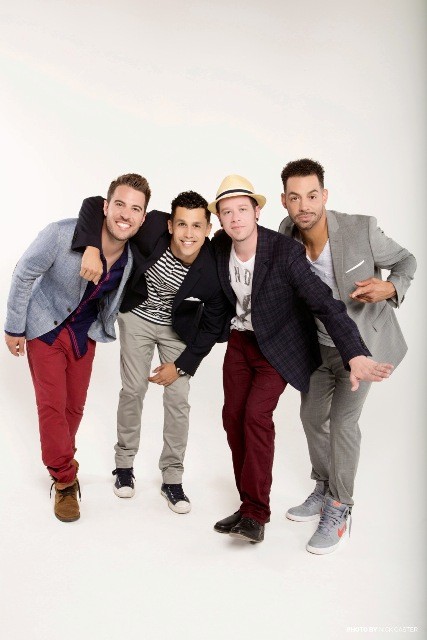 In March, we reported O-Town's reformation as a quartet. Today, you can listen to the group's first new single, "Skydive," and they've also revealed more information about their forthcoming album.
Get your first listen to "Skydive," which marks a major step forward for the foursome who first found success as a reality TV product on ABC's Making The Band.
"'Skydive' is a dramatic song," said Trevor Penick, describing the fresh track. "It starts with a simple piano and vocal, and by the end you hear a seventy-piece orchestra, and all four of us belting it out in four-part harmony.
"It's a mid-tempo, but there's a lot of energy in this song. There's intensity in the vocals, and the track is very dynamic. This song should take you for a ride."
Added Dan Miller, "This was a song written by a couple of young writers in London [Samuel Adams and Marcel Wildly], and brought to us by a mutual friend. We thought it had a lot of potential so we went in and reproduced the track, changed the key, and started to make it our own.
"By the end, we felt we really had something special. The song showcases everyone in the band and we felt it was a good representation of where we want to go musically."
"Skydive" won't be available for purchase for another two months, on July 27, but you can already pre-order it via iTunes.
It will then obviously be included on the group's upcoming record, Lines & Circles, which we can now reveal will be released on August 3. You can also see the album cover art at the bottom of this article. After the album release, O-Town is planning a US and European tour.
For the latest on O-Town, fans are encouraged to visit the group's official website (otownofficial.com) and follow them on Twitter (@otownofficial).
(c)2014 Brittany Frederick. Appears at Starpulse with permission. All rights reserved. No reproduction permitted. Visit my official website and follow me on Twitter at @tvbrittanyf.