'NY Ink' Star Megan Massacre Brings Her Talent To 'America's Worst Tattoos'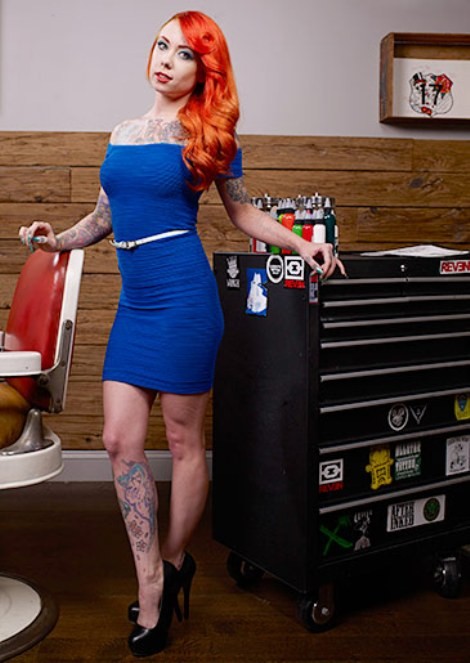 NY Ink star Megan Massacre may look like one tough chick, but don't let appearances deceive you - not only is she tough, but she's also personable, articulate, and whip-smart. It's no wonder why TLC enlisted Megan to be front and center on another of their series, America's Worst Tattoos, which premieres tonight alongside NY Ink. She knows her body art and she's a pretty awesome person, too. BFTV recently talked with Megan to find out if there are really enough bad tattoos to warrant a whole show, what you should know before going under the needle, and if she's judged by her looks.
"I would say 90 percent of all Americans have awful tattoos," she said. "People get terrible tattoos for a number of reasons. Sometimes people get tattoos when they're drunk, or their tattoo artist is drunk. [Tattooing] hasn't been around long enough so that people know the difference between a good and a bad tattoo. It's really nice to work on a show [where] I can explain to the general public, 'Look, this is what makes this tattoo awful.'"
"I'm already glad I did it," continued Megan, whose job on America's Worst Tattoos is not only to point them out, but to try and fix them as well. "There are so many tattoo shows on TV right now, and I feel like none of them actually focus on telling people what a good tattoo is and what a bad tattoo is. To educate people in a positive way, that's a personal success for me."
What's Megan's biggest caution when it comes to getting a tattoo? "Never, ever, ever for any reason get a tattoo of a girlfriend, a boyfriend, even if you're married," she said, naming that classic mistake we've all heard about. "I get it, you're committed now, but people get divorced after 25 years. Getting somebody's name tattooed on you is not the way to go. I would suggest something a little more symbolic."
She knows what she's talking about, having been in the business well before she came into the public eye as part of the cast of NY Ink. "Three years ago I got asked to do NY Ink on TLC, and I moved to New York City, and I've been doing that ever since," said Megan, who's also a model and DJ. "Tattooing has been my main bread and butter for the last nine years. I'd always been an artist my whole life. I kind of just fell into tattooing and it ended up being really great for me."
"I never thought that tattooing would bring me here," she continued. "When I started tattooing, tattooing on TV didn't even exist yet. My friends didn't think I was cool, they thought I was crazy. I was just in it for the art. I had no clue that it would become this mainstream or this cool. It's a little terrifying, but it's very validating too."