NUVOtv Launch Party: Mario Lopez, Anjelah Johnson And Joy Enriquez Share The Spotlight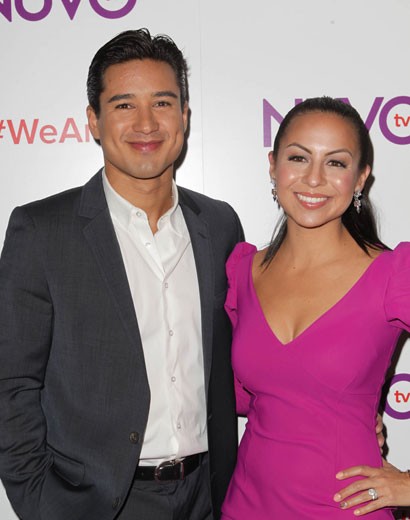 On Tuesday, NUVOtv held their official launch party in West Hollywood, California to celebrate a new network that "serves the multicultural Latino audience with culturally relevant entertainment." Unlike other Latino stations like Univision or Telemundo, NUVOtv is broadcast entirely in English.
To reflect that modern Latino viewer, the LA-based channel hired Jennifer Lopez as its Chief Creative Officer back in May. Her key role will help formulate quality programming that represents a new era for TV viewers. While J.Lo wasn't at the launch party this week due to prior commitments, other NUVOtv stars were eager to usher in a new generation.
One of their biggest stars is entertainment host Mario Lopez, who is producing his own in-depth interview show One on One. He talked to Starpulse about why now was the perfect time for this type of network to launch.
Lopez shared, "It's been the right time in my eyes. We've been underrepresented for a long time. I think this network really has a handle on how to service this market."
His interview show is modeled after Oprah's Next Chapter where "it's very intimate, one-on-one" and "it's a platform to showcase Latinos that are important to our community."
He's not the only well-known Latino star on the network though. Joining the X Factor host is comedienne Anjelah Johnson who has a one-hour comedy special The Homecoming Show debuting on July 20.
She told Starpulse that understands how big her role is in the community because it is tougher for females out on the comedy circuit.
Johnson explained, "When you think of stand-up comedy, you think of a man. Latinos, we have very few out there [in comedy]. We have George Lopez. We have Carlos Mencia. I'm trying to do something that I think has been needed."
The 31-year-old also explained how NUVOtv's Lopez inspired an entire generation of women.
She shared, "Jennifer is such an inspiration and just continues to blow my mind. She's a really strong inspiration in my life to just look up to and say, 'Yeah, get it…I can do that, too.'"
However, comedy specials and interview shows aren't the only types of programs viewers will see on NUVOtv. Singer and actress Joy Enriquez's reality series House of Joy, which debuts on July 18, offers viewers an inside look into her large extended Mexican-American family.
The mom-of-three revealed what her show really means.
Enriquez said, "I am family and what the means to us is that it is our culture, our tradition, our family. We kind of never leave each other. We all take care of each other. We are always there for each other…through the good and the bad, the ups and the downs. We are there with each other all the time, 24-7."
JLo even has her own docu-series A Step Away featuring her backup dancers and the sacrifices they make for a career as a professional dancer while on the singer's world tour. The variety of shows proves that NUVOtv is definitely stepping up the game in programming right out of the gate.
If you need any further reassurance as to where the network is heading, Mario Lopez summed it up with his wish list of guests for his show, "[Associate Justice of the Supreme Court] Sonia Sotomayor, [boxer] Marco Antonio Rubio and Pope Francis…he's a Mario. You might as well shoot for the stars."