Nurse Jackie Recap:'Tiny Bubbles'

Last night,
Jackie's
former mentor came back to the hospital to die with her help. We met Coop's two moms that Dr. O'Hara nicknamed the vagina mom and the other one. In a tense moment, Coop grabbed O'Hara's breast, revealing his chest-grabbing Tourette's is real and he also suffered from OCD as a kid. Jackie's mentor Paula also came with her own revelations. She had the same enemy in Akalitus and she also once received her percocet and vicodin supply from Eddie. Whether or not she was having an affair with him too was left to speculation.
While Jackie spent the episode gathering a morphine shot to euthanize Paula, Zoey struggled with how to react to what was going on. She eventually decided to participate by attending Paula's farewell champagne toast and risking the wrath of Akalitus. Akalitus may have threatened the nurses about Paula's death, but she ignored what was going on for most of the episode after hinting at her suspicions. At the end of the episode, Jackie went to Paula's apartment and discovered that everything was already packed and ready to be taken out.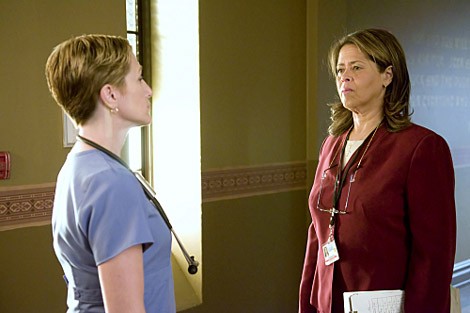 Image © CBS Broadcasting Inc.
Bookmark our 'Nurse Jackie' News page & check back for regular episode recaps & news!
Nurse Jackie Cast:
Edie Falco
,
Peter Facinelli
,
Eve Best
,
Merritt Wever
,
Haaz Sleiman
,
more
Story by
Lauren Attaway
Starpulse contributing writer