'Nurse Jackie' Recap: 'Sweet-N-All'

In the series premiere,
Nurse Jackie
introduced a pill-popping nurse with opposing home and work lives. The second episode picked up shortly after the last episode's end with Jackie still at home. Jackie and her husband chatted and even had sex on the cereal-covered kitchen floor. After a breakfast with the kids, Jackie returned to work and the wedding band came back off. She slid back into her affair with her pharmacist boyfriend and supplier. As a viewer, it's easy to wonder when Jackie's home and work life will intersect.
Keeping with the feel of the pilot, the patients were not important aside from the dramas they created for the hospital's staff. Jackie scolded a mother whose desire to make her son into a spokesperson had left the boy facing brain damage. After a patient hit her, Jackie went out of her way to make sure that he continued receiving the right treatment. She tried to explain to the still new Zoey that this was their job by saying that doctor's diagnosed the patients and the nurses' job was to heal them.
On a lighter note, after new nurse Zoey found an ear and reported it the hospital administrator threatened Jackie with an impending investigation. The only positive of that storyline so far is that it provided Mrs. Akalitus the chance to experience the effects of Jackie's Percocet holding sweet-n-low packets.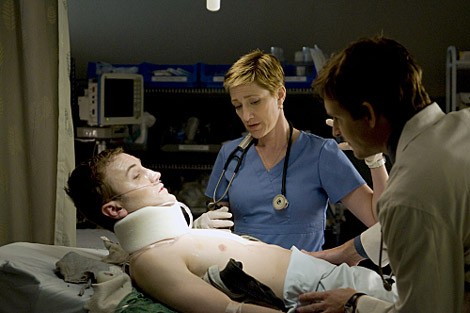 Image © CBS Broadcasting Inc.
The episode ended with Jackie and her family at the husband's bartending job. Her daughters ate pudding while Jackie put what we could only hope was just Sweet-N-Low into a cup of coffee.
Bookmark our 'Nurse Jackie' News page & check back for regular episode recaps & news!
Nurse Jackie Cast:
Edie Falco
,
Peter Facinelli
,
Eve Best
,
Merritt Wever
,
Haaz Sleiman
,
more
Story by
Lauren Attaway
Starpulse contributing writer