'Nurse Jackie' Recap: 'Daffodil'

Daffodil opened with Jackie staring at a picture her daughter Grace had drawn of a sunless Florida beach. Before heading off to the night shift, Jackie had dinner with her daughters and husband, while both girls were less than happy their mom had to go into work.
At the hospital, Jackie explained the importance order of nighttime patients to Zooey while Mrs. Akalitus tried to interfere with the hospital's actual procedure. Jackie had to deal with Mrs. Akalitus constantly trying to do things according to the hospital's guidelines until she accidentally tasered herself. Dr. Fancypants took Zooey to dinner with her instead of Jackie. Zooey acting like Zooey, pink animal scrubs and all at the restaurant led the Dr. to tell people their meal was for make a wish.
Jackie dropped in on her boyfriend Eddie only to find him eating with Dr. Cooper. Coop and Eddie hanging out bothered Jackie enough to make her affair seem like it might be deeper than just drugs.
As for Jackie's patients, she helped a little girl taking care of her mother get the right medications and even provided her cell phone. Jackie also figure out that flash cards would allow a stroke victim to communicate with his obnoxious family. In true Jackie style, the first flash card told the family to shut up.
Jackie got home in time for a call from the little girl whose mother had lupus. After listening to her symptoms Jackie explained to the girl how to give half a percocet to the mother while taking her own. Now that the show's explored how the hospital works, unconventionally at best, it's time for them to provide details about the supporting characters' lives outside of the hospital. It may start next week, as Coop gets a visit from his two mothers.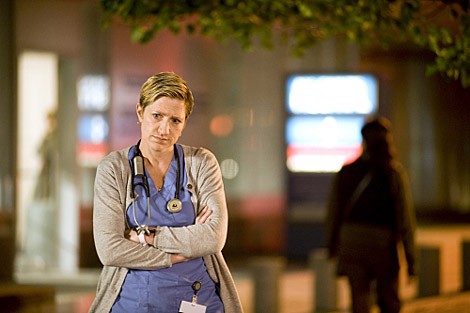 Image © CBS Broadcasting Inc.
Nurse Jackie
Cast:
Edie Falco
,
Peter Facinelli
,
Eve Best
,
Merritt Wever
,
Haaz Sleiman
,
more
Bookmark our 'Nurse Jackie' News page & check back for regular episode recaps & news!
Story by
Lauren Attaway
Starpulse contributing writer