'Nurse Jackie' Recap: 'Chicken Soup'

Last night's episode of "
Nurse Jackie
" opened with Jackie at home describing the calmness of mornings while she searched for a pill above the medicine cabinet. The pill fell into the sink about the same time her husband confessed his worries that their older daughter was worrying too much about fact based science stories.
Jackie gets to work only to learn that her boyfriend Eddie is being replaced with a robotic pill dispenser. Jackie even tried to talk Dr. Cooper into voting against the machine but "Coop" just assumed that it was because she had a crush on Eddie. Jackie told Coop that her and Eddie have sex everyday at noon in what he assumed was a joking manner.
Elsewhere, Nurse Zoey had her stethoscope stolen by Dr. O'Hara and tried to tell Jackie about it. Jackie explained to Zoey that doctors were good at stealing everything, including credit, and told Zoey to get her stethoscope back. Zoey spent the episode comically getting rebuffed in her efforts until she finally snuck up on a pretend sleeping Dr. O'Hara and snatched it.
Zoey also provided comic relief with one patient who'd been attacked by his cat by randomly admitting that she'd married her cat once. The other two patients were less of a joking matter. Jackie lectured a woman who'd recently quit taking Vicodin only to leave and take her own pill. The other patient was a man that knew he was dying but refused heart medication in favor of his wife's chicken soup. After he died, his wife admitted that she knew he was dying but the chicken soup was just a remedy for the both of them.
Jackie went home and her daughter Grace was unable to sleep while she worried in front of the television about the chances of the bubonic plague's return and a flu that could kill everyone. Jackie promised that no such thing would happen and fed her daughter some of the old woman's Chicken Soup.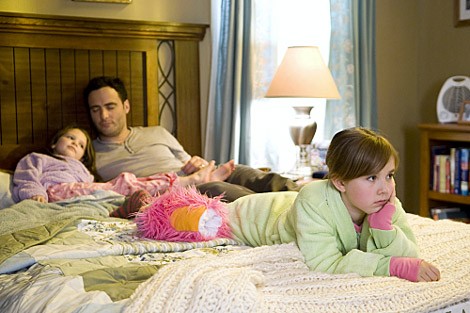 Image © CBS Broadcasting Inc.
Edie Falco,
Peter Facinelli
,
Eve Best
,
Merritt Wever
,
Haaz Sleiman
,
more
Story by
Lauren Attaway
Starpulse contributing writer