'Nurse Jackie' Preview: Morris Chestnut And Adam Ferrara Bring New Energy To Season 5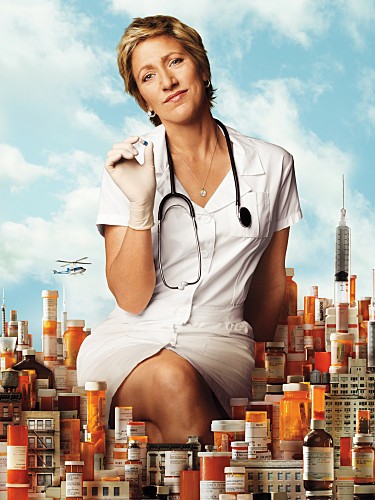 Nurse Jackie returns to Showtime for its fifth season with more sharp witticisms - and with the bonus of having added some strong new performers to its cast.
Season five comes with some behind-the-scenes changes. It's the first since the departure of co-creator Liz Brixius, who wrote or co-wrote half of the previous cycle, including the season four finale. (Brixius retains a consulting producer credit.) As she leaves, joining the series is former Dexter writer-producer Clyde Phillips, who served as showrunner for the serial killer drama's fourth season. Phillips wrote tonight's Jackie season premiere, and understandably, his take feels like a slightly different show. While Jackie still has her amusing bite, there's now even more emphasis on the drama in this comedy-drama. (A fact worth noting: out of the first seven installments of season five, six are credited to writers who have not written an episode of Nurse Jackie before. This is obvious in certain segments; to say more would be to spoil, but there's room for improvement.)
The season opens the day before Jackie's birthday, with continuing tensions between her and soon-to-be-ex-husband Kevin, before she gets to work and finds the new resident, Dr. Carrie Roman (guest star Betty Gilpin), having sex instead of helping in the ER. At least the other arrival, Dr. Ike Prentiss (special guest star Morris Chestnut), takes his work much more seriously. With lines like "My patient looks like an a--hole," Prentiss isn't taking anything from anyone - including Jackie. Chestnut and Edie Falco have an interesting banter together that brings something fresh to the series. Another great scene in the premiere has Eddie (Paul Schulze) finding chaos in the pharmacy and deciding to take matters into his own hands.
Yet things really get interesting in the third episode, when the multi-talented Adam Ferrara (Top Gear, Rescue Me, The Job) joins the cast as Officer Frank Verelli, an NYPD cop who becomes Jackie's new love interest. From his first line, he's hilarious - no surprise given that Ferrara is one of the best comedians on the planet. Even when handed dialogue that would be corny coming from anyone else, he still gets genuine laughs out of it. He'd make reading the phone book funny. What he doesn't receive enough credit for is how good of an actor he is. He handles both the comedy and dramatic aspects of the show well, with wonderful timing and delivery. Ferrara quickly becomes a true asset to the season, both on his own and playing off Falco. The ridiculously likeable Frank brings out a warmer side of Jackie that's nice to see. Of course, this being Nurse Jackie, the romance hits several snags in later segments, the biggest one being Dr. Michael Cruz (a returning Bobby Cannavale).
No matter who comes through the doors of the hospital, the show will always orbit around Falco, and in season five viewers are reminded of why that's the case. Jackie, as a character, is oftentimes infuriating - she's that person you care about, but at the same time can't help wondering how many chances they're going to waste before it's finally too late. Yet as Falco plays her, even when she does things that drive us crazy, we still can't quite turn away from her. Falco doesn't ask us to always like Jackie, or to even understand what she chooses to do sometimes. What she does is play the flaws with as much honesty as she plays the strengths. Yes, she's still wielding pithy comments like scalpels, and she's good at it - but she's also an experienced actress shows us every side of her dysfunctional character.
Nurse Jackie is definitely a different series in season five, and the show's new direction isn't perfect. Yet with Falco at its core and some great supporting players around her, the cast is more than watchable, making up for the speed bumps along the way. Fans will still be entertained by the goings-on at All Saints, and newcomers ought to at least pay Jackie a visit.
Nurse Jackie premieres tonight at 9 PM ET/PT on Showtime.
(c)2013 Brittany Frederick. Appears at Starpulse with permission. All rights reserved. No reproduction permitted. Visit my official website and follow me on Twitter at @tvbrittanyf.