NPH's Partner David Burtka To Be Correspondent For E! News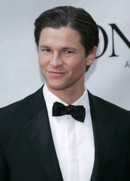 Neil Patrick Harris won't be the only TV star in his family next year - his partner David Burtka has landed a reporting role on E! Network.

The How I Met Your Mother actor has twins with his longtime boyfriend, who quit acting to become a chef in 2009.

Burtka will now make a return to the spotlight as a red carpet correspondent on E! News, according to The Hollywood Reporter.

He will start his new role in January.