Notes From Tribeca: The Sports Guy Bill Simmons Leads '30 for 30' Discussion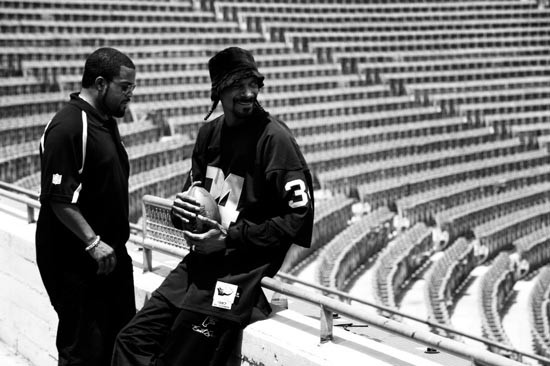 This past Saturday I caught the ESPN panel for their 30 for 30 documentary series that's running for their 30th anniversary. The documentary series features 30 films from a select group of filmmakers who tell stories from their own perspectives, "detailing the issues, trends, athletes, teams, rivalries, games and events that transformed the sports landscape from 1979 to 2009," according to 30for30espn.com.
The crux of the panel was supposed to center around Ice Cube and his documentary (which premiered at the festival), Straight Outta LA. Unfortunately, he had to back out at the last minute—you know, rappers—and was instead replaced by Bills Simmons. Bill Simmons(!) who was also the brainchild of "30 for 30" documentary series and has a must read on how the series came about.
For those of you who don't know, Simmons is a columnist for ESPN—perhaps one of the most popular sports writers in the country—and last year he wrote NY Times Bestseller The Book of Basketball. I should say that, for starters, I'm not a front-runner for Simmons. I have been a fan of his columns since before he joined ESPN when he was simply known as The Sports Guy; he probably single-handedly taught me about baseball, a sport I knew nothing about, and as far as sports writing goes, the man just has a way of making the task of reading about sports an enjoyable one. He's funny. And I singularly credit him for inspiring me to write columns.
Now that I'm finished slurping the Kool-Aid, the panel discussion shifted dramatically from Ice Cube's film to the documentary filmmaking process in general for the subjects that [have been] appearing on ESPN; from Allen Iverson's refusal to participate in the doc about his life, to the eye-opening misconceptions that we all as a general public had about football star Ricky Williams, who infamously left the NFL because he wanted to go hide out in the woods and smoke pot (no . . . that really happened).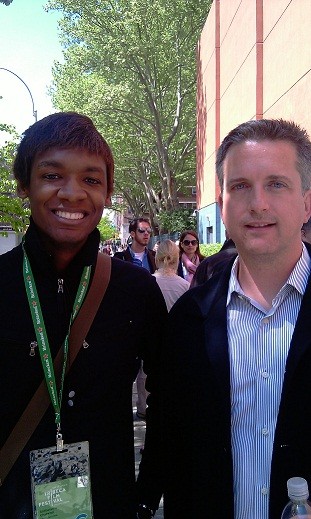 We also got to hear from a couple of other filmmakers including Brent Morgan, who directed the upcoming doc about the day that O.J. Simpson entered millions of homes in America in a white Ford Bronco at forty miles per hour. Then Simmons proudly proclaimed that the documentary about the Colombian soccer player who scored an own-goal against the United States in the World Cup and was subsequently murdered back at home was going to be "really good". It premiered at Tribeca on Sunday.
At the conclusion of the panel, I was fortunate enough to hang with Simmons for a bit, talk about his book briefly and pose for a photo (I had to do this since I didn't have the balls to ask him when he signed my book last year). I handed my camera to a woman who was with us and asked her to snap for us and she in turn asked me where the shoot button was . . . and I'm thinking, I know that voice! It was the Sports Gal, aka Mrs. Simmons, aka the woman who Bill is always poking fun is two steps from divorcing him over realty TV stars. People in Simmons Nation know that there aren't any photos of her anywhere on the internet, so nobody knows what she looks like . . . until I found out on Saturday.