Not Many Divas On 'The X Factor's' Diva Night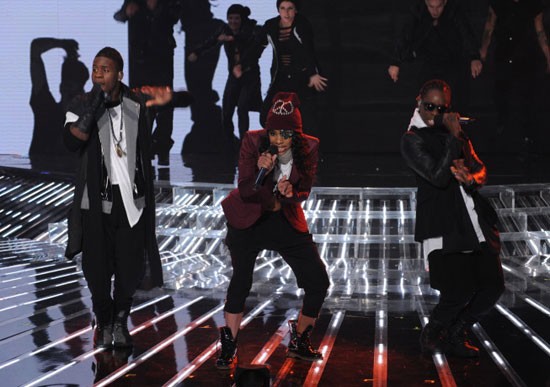 Lyric 145 Sang "ET" by Katy Perry mashed up with "We Will Rock You" by Queen
LA Reid Said: I think you guys have lost your way. This could be the last time we see you.
Britney Said: I feel like they're a hip hop group and they should do hip hop tracks.
Demi Said: I don't feel like 'ET' fit at all. I don't get it.
Simon Said: You bring an energy this show needs.
The Verdict:
After last week's clown show, this off-beat song choice really worked for them. The mash-up was inspired and the spin they put on it made a lot of sense.
They didn't rely on a lot of gimmickry and weirdness to make this work. Instead, it was just a straight fun hip hop showcase where Lyric looked like the star and the other guys perfectly formed her backing act.
These are the first act to really look like pros.
Grade: B
Prediction: The first group to get trashed. They're in definite danger.
Arin Ray Sang "Crazy For You" by Madonna
LA Reid Said: I'm struggling with that, but I want goosebumps. I didn't get a $5 Million performance.
Britney Said: I felt that you nailed it.
Demi Said: I was honestly really bored watching it. I think you lack soul.
Simon Said: It looked like you hated it. You taking on that song is like asking a cat to eat a tiger.
The Verdict:
Arin is really turning into a star as this competition goes on. He takes the stage like he was born there and knows how to sell a song and make it his own.
The age thing is starting to become a factor though. He's just not mature enough yet. He still makes a lot of vocal mistakes and loses his poise at times. This was a wobbly example like that as moments he looked and sounded like he was ready to roll over everybody else and other times he just seemed to have completely forgotten how to sing.
If he was on this show three years from now it would be insane. Of course, he might have not needed this show three years from now. As for now, it just wasn't quite there.
Grade: C+
Prediction: Wow. He got obliterated by the judges a week after finishing really low in the rankings. He could be gone this week.
Paige Thomas Sang "Last Dance" by Donna Summer
LA Reid Said: That was your best yet.
Britney Said: It was like a disco ball exploded on stage.
Demi Said: With your performance, you took my mind off of everything going on around you.
Simon Said: You didn't need everything else on stage. You needed to be in the spotlight.
The Verdict:
I don't know what's happened to Paige Thomas. The girl who was getting blown off the stage by Leopard Face and failing to live up to whatever hype was being created around her every step of the way is suddenly looking somebody ready to dominate the competition with star power to spare.
I just wish her voice could match her look, poise and stage presence. She's giving us the show of somebody with a killer voice, but never quite killing the vocal – just giving us something good enough to ignore for the rest of package.
Grade: B-
Prediction: That was good, solid and ready to move on.
Fifth Harmony Sang "Hero" by Mariah Carey
LA Reid Said: You picked a tough song, struggled in the beginning, but it turned into a really great performance.
Britney Said: I was extremely impressed.
Demi Said: You guys did an incredible job on the song.
Simon Said: Maybe there's a chance that five girls with brilliant voices could win the show.
The Verdict:
This is a weird song choice to give to a group and a weird way to arrange it. The harmonies were non-present. Not even attempted, just five girls singing the song as a solo act at the same time and then trading off some solos in the interim.
Altogether, it was just kind of boring. Like watching Christmas Carolers sing pop songs. Complete with paper snow. It left me cold.
Grade: C-
Prediction: Boring for me, but the judges did enough to make sure they aren't forgotten by voters.