Not Just On TV Anymore: Favorite Series Are Now Just A Click Away

Not everyone has TiVo. As nice as it would be to come home late from work or class and be able to flip on
30 Rock
or
SportsCenter
even though they aired hours before, some do not have that luxury. For some, if a show is missed, it is gone forever. The luckless viewer is resigned to hope for repeat airings or, for those most unfortunate, future syndication. However, a new day has dawned for those left in TiVo's shadow.
Now, many of the major broadcast and cable networks have engaged the possibilities of integrated marketing. With the increasing popularity of the Internet and the proliferation of features of mobile phones, the networks have embraced cross-platform marketing, i.e. the spread of television shows outside the box. Now, one can watch full episodes of
Prison Break
online, catch up on past episodes of
The Shield
on their iPhones, play the
24
video game on PlayStation, and even check out
Hayden Panettiere
in the
Heroes
magazine. It's not just a TV show anymore.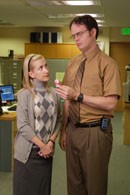 Most people enjoy watching
The Office
. They like seeing Michael try to manage a host of colorful desk jockeys. Many of these devoted viewers do not toil in cubicles, and the show is their only window into the goings-on of offices the country. Of course, these viewers understand the farcical nature of the program but enjoy peeking into a world not their own. With NBC's venture into cross-platform marketing, these same viewers can make Michael proud and run their own office with Dunder Mifflin Infinity. Offered via
The Office web site
, Dunder Mifflin Infinity fans compete against other fans nationwide to see whose office is superior. But the fun doesn't stop there. In honor of the Golf Tournament episode, the web site offers the Mini Putt Golf game and tournament that allows fans to compete as well.
Plenty of people are
CSI: NY
fans. But, as much as they wish they could, they simply can't stomach the idea of picking over cadavers for evidence of wrongdoing. Now, they don't have to. With the Second Life
CSI: NY Virtual Experience Game
, fans can create avatars in their own likeness, i.e. virtual versions of themselves, and explore a virtual crime scene to gather evidence and close the case. CSI is no longer just for your viewing pleasure.
CSI: NY/Second Life Virtual Experience Mystery Game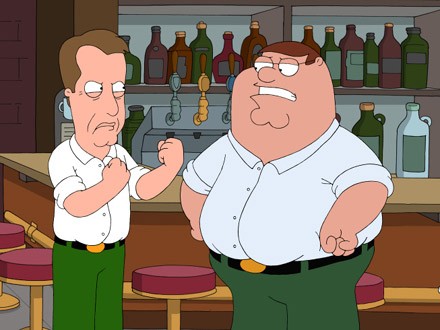 Even
Family Guy
has taken to exploring life outside the boob tube. The show's expansive web site features games, clips, and goodies for your phone. Everyone knows Stewie can be a handful, but with Stewie Live you can play Lois and tell the demanding infant to sing, sleep, even poop. But, he'll let you know when you've crossed the line. And no one likes telemarketers, especially their incessant calls that are less enjoyable than a swarm of mosquitoes hovering near your ear. Now, you can fight back, that is you can have Peter fight for you. The web site offers a host of ringback tones to download; one of them features Peter narrating his entire life story, a surefire deterrent to unwanted callers. You can even make history by helping Peter break the record for the world's longest unaided human flight. All you have to do is launch the fat man from a medieval catapult and watch him soar.
This all may sound easily like a cheap advertising campaign aimed at drowning audiences in the immense fog of entertainment. But, in the days of growing politics and corporate inflation, the expansion of programs like Psych and Bones fails to seem as constricting. And, it's difficult to imagine anyone complaining about missing episodes of 24 when they can bide their time at the office catching up in the comfort of their cubicle. Even ESPN has joined the game, perhaps even founding it: ESPN.com has become the sports fan's first pick for breaking news and fantasy sports hub; ESPN mobile offers the fan on the go the ability to manage fantasy teams, receive up-to-the-minute game alerts, and even watch clips from the big game; 2K Sports has developed into a fierce rival of EA Sports for control of the sports gaming world; and ESPN the Magazine is to sports fans what Entertainment Weekly is to media junkies. With fevered uprising toward market presence, it seems safe to say that things don't look like they are going to change. Besides, with all the offerings, do you really want them to?
Television has jumped out of the box and under your fingertips. Whether you're grasping a cell phone or pecking at a keyboard, your favorite TV show is never more than a click away. Now, you can watch full episodes of The Office online, download wallpaper from The Shield onto your phone, or even investigate a virtual crime scene based on the CSI: NY episode you just watched. Like, brace-faced Mary Jane tailing you around all through sixth grade, TV now follows you everywhere you go.
Story by
Tim Peterson
Starpulse contributing writer