Not In The Holiday Spirit Yet? Give 'Elf' With Will Ferrell A Watch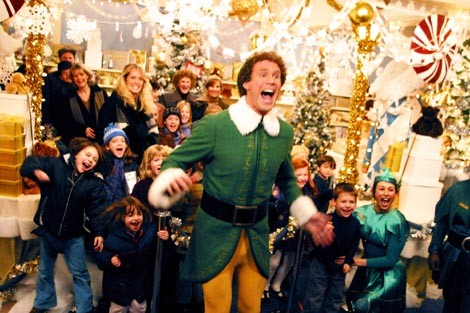 Whether it's Will Ferrell's loveable smile, the yellow tights, or the fact that you can laugh and be a kid again while watching the film- we can all agree that Elf is the greatest holiday movie since National Lampoon's Christmas Vacation or A Christmas Story. For those of you who live under a rock and have not seen Elf, it is a classic holiday movie starring Will Ferrell, who plays Buddy the elf and directed by Jon Favreau. When Buddy was a baby in an orphanage, he snuck into Santa's sack and ended up in the North Pole with the rest of the elves. As he grew up, much taller and more manly than the rest of the elves, he realized he was different and set out to New York City to find his real father.
Also starring an award winning cast including James Caan, Bob Newhart, Zooey Deschanel, Amy Sedaris, Mary Steenburgen and Andy Richter, Elf makes us laugh, makes us feel sentimental and gets us in the holiday spirit. The movie almost transports us back into our childhood as we experience the joys of Christmas through the eyes of such a vulnerable character like Buddy.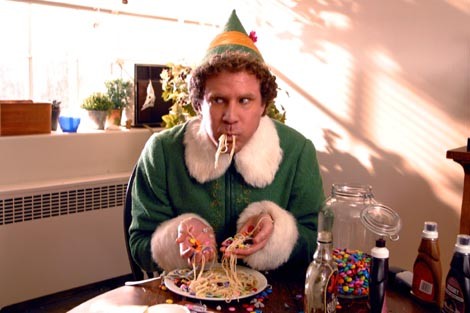 A few of our favorite scenes include the dinner table scene where Buddy lets out the biggest burp in history after chugging an entire liter of cola and says, "Did you hear that?" The scene where Buddy learns that Santa will be coming to the department store for a visit and exclaims, "I know him!" Buddy attempting to place the star on the top of the family's tree by bouncing off of the couch and onto the tree but it ends up crashing down on top of him. Buddy's first time on the escalator when he just stands there with his legs almost in a split and enjoys the ride up. And finally, our favorite is when he excitedly first arrives in New York City and gets hit by a taxi cab but then apologizes to the driver like an amateur. Classic! 
Get that holiday cheer in gear and grab an ugly Christmas sweater, hot toddy and frosted sugar cookies ready for your movie night. If you have never seen Elf, get out from under that rock, buy the film and enjoy it with your family and friends. If you have seen the film, we know that you love it and have probably already watched it twice this holiday season, just as we have.