Nora Kirkpatrick Talks 'The Office' Role, Magnetic Zeros Tour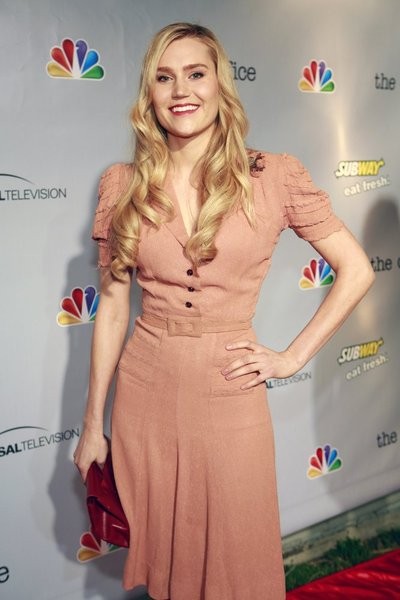 You'll be seeing Nora Kirkpatrick in many places. The actress-musician is not only appearing in a multi-episode arc during the final season of The Office, but she's about to hit the road as the accordion player-keyboardist-vocalist in Edward Sharpe and the Magnetic Zeros. BFTV recently checked in with Nora to talk about how she mixes acting with music, what fans can expect on the band's tour, and what she loves the most about herself.
"Music and acting have both always been a huge part of my life equally in tandem, and I can't really imagine my life without one or the other," she confided. "I've trained as an actor my whole life and music has always been something I've taught myself. I know so many artists who express themselves over various mediums. I feel like I'm kind of restraining from giving myself some kind of label because I think it's great to follow your interests."
"I grew up in Iowa, so it wasn't really ever a [career] option when I was a kid," she said of deciding to become an actress. "I was not a child actor in a professional sense. The local community theater was a huge part of my life and I loved every minute of it. And then when I was applying to college, I got into the UCLA theater program, which is a really good program and they don't accept many people. I couldn't believe I got to go to college for this."
While she was interested in acting, music was also a significant part of Nora's life. "I always played instruments," she said. "I have a series of really kitchy 70's organs that I got at thrift stores. But I wanted to be more mobile, because you can't bring an organ or a piano with you. I just kind of fell in love with [the accordion]. It's pervasive through so many different types of music. I have an electric accordion now."
"We have a new album coming out in June and so it's a whole slew of new songs," she continued, explaining what fans can expect on the upcoming Magnetic Zeros tour, which begins in May and continues through September. "It's so much fun because we now have this repertoire of songs we can play. It just keeps the show so much more lively. We never make set lists, because we just kind of go with what we're feeling. The tour will be nuts, I am sure, as they usually are!"
Nora is also appearing in several episodes of The Office as Esther, a new love interest for Dwight (Rainn Wilson), and while there was very little she could say about her story arc, she was happy to talk about how much she enjoyed being a part of the NBC comedy's final season.
"It was such an honor to be a part of the show. I watched it the whole way and the British show before that, so when I got to be on it, it was just so wonderful," she gushed. "Everyone on the show, everyone who works on the show, are people at the top of their game. The vibe on the set was so wonderful. This is why the show lasted for nine years, because it was such a great environment.
"In the next coming episodes you'll kind of see what happens between Dwight and I," she explained. "Rainn Wilson has been hilarious. [There are] hilarious Dwight moments coming up."
She's even in the movies, with a role in the upcoming film Sexy Evil Genius, which she described as a "psychological thriller. It stars Seth Green, Michelle Trachtenberg, Harold Perrineau, [and] William Baldwin," she said. "It's kind of shot like a play and I am kind of the comedic relief. They're all there to meet the woman who they all know, and they don't know each other."
What other line on her resume would she recommend to the people who are about to see her in her newest projects? That would be ABC Family's Greek, where she was Katherine Parker for 19 episodes. "The character that I got to play on that show was so fun," she continued. "I get comments on that show all the time and it was such a great learning experience for me."
While Nora has plenty of things to be excited about, she's not looking at her career with any particular destination in mind. "I think it's really just about following what makes me curious on a day to day basis," she said. "I love that I'm interested in the world around me. Every day I find something that I don't know about or wish I knew about. I think I ask a ton of questions. But I really like that about myself."
You can see Nora on The Office, which airs tonight at 9 PM ET/PT. For Magnetic Zeroes tour dates, you can visit the band's website. You can also follow Nora on Twitter (@norakirkpatrick).
(c)2013 Brittany Frederick. Appears at Starpulse with permission. All rights reserved. No reproduction permitted. Visit my official website and follow me on Twitter at @tvbrittanyf.