Nora Ephron's Passing Won't Quiet Her Voice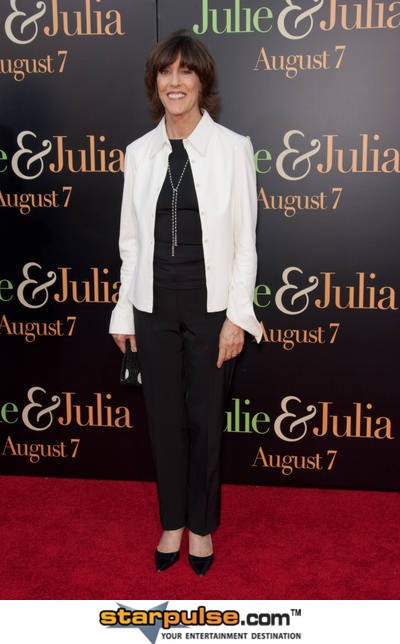 "I highly recommend having Meryl Streep play you. If your husband is cheating on you with a carhop, get Meryl Streep to play you. You'll feel much better. If you get rear-ended in a parking lot, have Meryl Streep play you. If the dingo eats your baby, call Meryl."
Nora Ephron uttered those words at an AFI Life Achievement Award ceremony in Streep's honor several years ago, alluding to the movie 'Heartburn' in which Streep played a fictional version of the screenwriter-director-novelist. Ephron's brief speech showcased her loyalty to career partners spanning decades, her warm wit and her knack for saying just the right thing.
But now it is Streep speaking up in Ephron's honor. In a statement today after the news of Ephron's passing at age 71 from leukemia complications, Streep says, "It's hard to credit how very smart she was, 'cause she was always deflectively feminine and funny, the sharpness of mind softened and smoothed by genuine charm."
Streep is just one of a host of collaborators from Ephron's long and impressive career paying tribute today. Mike Nichols, who directed Ephron's scripts for 'Silkwood' and 'Heartburn' (both starring Streep) is clearly heartbroken, saying, "What kind of a place is this? I feel like someone reached in and grabbed my compass from around my neck and threw it from a moving train. How will I navigate?"
The impact she had on her colleagues and her fans is palpable today. Her life traces a classic Hollywood story (her parents were brilliant screenwriters who wrote hits such as 'Carousel' and 'Take Her, She's Mine') but her feminine and feminist point-of-view fast-tracked her to behind-the-camera Hollywood stardom after an impressive career debut as a journalist and essayist.
After writing for all sorts of publications including The New York Times and Esquire, she wrote novels and memorable memoirs. But she is best known for entering the screenwriting and directing world – and coming up with genuine box office hits – when men did, and still do, reign.
She was nominated for three Academy Awards for screenwriting, including for 'Silkwood,' which she co-wrote with her friend Alice Arlen. She also earned nods for 'When Harry Met Sally…' and 'Sleepless in Seattle,' both of which featured Meg Ryan.
Her romantic comedies, for which she ultimately became known, often updated old ideas. Her classic script for 'Sleepless in Seattle' took a cue from 'An Affair to Remember' and her AOL email comedy 'You've Got Mail' in 1998 was an update of 'The Shop Around the Corner.'
Her last film, which turned out to be the critically lauded 'Julia & Julia,' with Streep in the title role of Julia Child, was well-received and spoke of Ephron's evolving filmmaking. The movie is at once a rom-com and a biopic, a whimsical addition to her canon. She ended her film career on her high note.
Her recent memoirs, including a 2010 collection of essays, often hilariously highlighted her thoughts on aging.
If the Hollywood sign were made up only of bright bulbs, two or three letters would have dimmed with Ephron's passing. But her voice on the page and on the screen still echoes as strongly as ever.